Principals Welcome Lunch, presented by JF Hillebrand
Event Navigation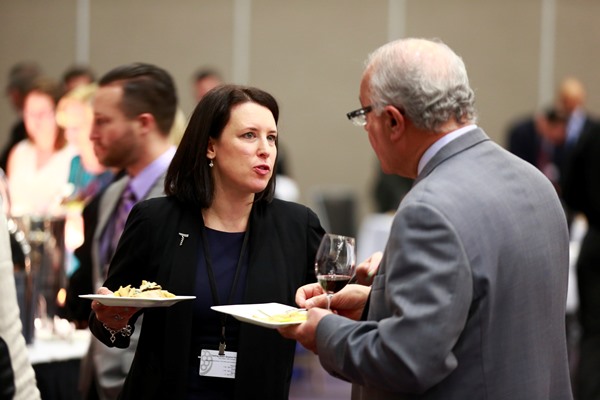 Join all 173 winery principals at the Principals Welcome Lunch, presented by JF Hillebrand, the kick-off to the first tasting room session. Network with colleagues from around the globe while getting a head-start on select wines from room, leaving you with more time for your after-lunch tasting room strategy. Then take a seat at the long tables to enjoy a delectable buffet-style menu created by VCC's Executive Chef Mark Massicotte. Wineries will be grouped alphabetically by wine agency.
Trade events are available only to those in the wine, restaurant and hospitality industries who buy, sell, serve or market wine in their business. Registration is required.
Menu:
House-made artisan rolls
Pre-set Salad:
Baby romaine leaves with caramelized Bartlett pears, St. Agur blue cheese and candied pecans
Champagne vinaigrette
Grazing stations:
Maple Hills free range chicken breast with porcinis and herbed polenta
BC Rockfish fillets with fennel, orange and black olive butter
Serrano ham wrapped sage and garlic marinated Sakura Pork Loin, pan jus
Strozzapreti pasta tossed with Angus beef short rib sugo and pecorino cheese
Eggplant, zucchini, tomato and onion tian
Platters of:
Chocolate Panna cotta, crispy pearls
Fresh raspberry tartelette
Craquelin profiteroles with espresso mascarpone cream
Strawberry-pineapple brochettes
Coffee stations:
Freshly brewed Moja organic coffee and imported teas
Note:
Must be 19 or older (No Minors) to attend Vancouver International Wine Festival events. Two pieces of ID are required. Infants and babies are not permitted.
Event Sponsors