The Sommelier of the Year Award recognizes working sommeliers who consistently demonstrate an outstanding passion for marrying wine with food and a dedication to exceptional service.
2020 Sommelier of the Year
Peter Van de Reep, Campagnolo Restaurant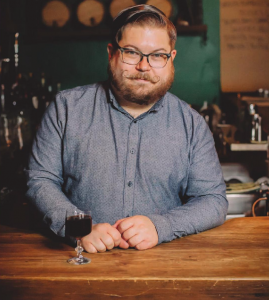 This year's winner, Peter Van de Reep, wine director & bar manager, Campagnolo Restaurant, was selected through a hands-on competition organized by the BC Chapter of the Canadian Association of Professional Sommeliers. As Sommelier of the Year, Peter receives Delta Air Lines vouchers valued at $2,000 USD from the festival.
Peter Van de Reep is the wine director and bar manager of Upstairs @ Campagnolo and Campagnolo Restaurant. Peter started with the company in 2012 at Campagnolo Roma after working for Elysian Coffee and completing studies in Geology at the University of British Columbia. He is a certified sommelier with the Court of Master Sommeliers and is writing his advanced examination with the CMS later this year. He is easily plied with amaro, Champagne and Riesling.
Past winners include:
Matthew Landry – (The Stable House Bistro – 2019)
Sean Nelson – (Vij's – 2018)
Shane Taylor – (CinCin Ristorante + Bar – 2017)
Alistair Veen – (Tap Restaurant – 2016)
Jason Yamasaki – (Chambar – 2015)
Mike Bernardo – (Vij's Group – 2014)
Samantha Rahn – (Araxi Restaurant – 2013)
Terry Threlfall – (Hawksworth – 2012)
Owen Knowlton – (West – 2011)
Kurtis Kolt – (Salt Tasting Room – 2010)
Andrea Vescovi – (Blue Water Café – 2009)
Neil Ingram (Boneta – 2008)
Chris Van Nus (Blue Water Café – 2007)
Sebastien Le Goff (CinCin Restaurant – 2006)
Tom Doughty (C Restaurant – 2005)
Mark Taylor (CRU Restaurant – 2004)
Barb Philip MW (Fish House and Cannery Restaurants – 2003)
Peter Bodnar Rod (C Restaurant – 2002)
Mark Davidson (The Beach House – 2001)
Brent Hayman (Raincity Grill – 2000)