ABOUT THE AWARDS
Our mission is to reward restaurateurs who make the effort to produce an original and creative wine program. A successful wine program should offer consumers a well-selected choice of wines that harmonize with the food. The program should also encourage all staff to have significant wine knowledge that they can share comfortably with diners.
We believe a good wine list brings in customers. A great wine program in a restaurant encourages customers to come back for more – more choices, and more delightful and memorable experiences.
Our awards fall into five categories: Platinum, Gold, Silver, Bronze and Honourable Mention.
HOW TO ENTER…
Applications for the 2023 Wine Program Excellence Awards are now closed. Winners will be announced at the 19th Annual Awards Lunch featuring South America on Friday, April 28, 2023.
Click here to see a list of the 2023 winners.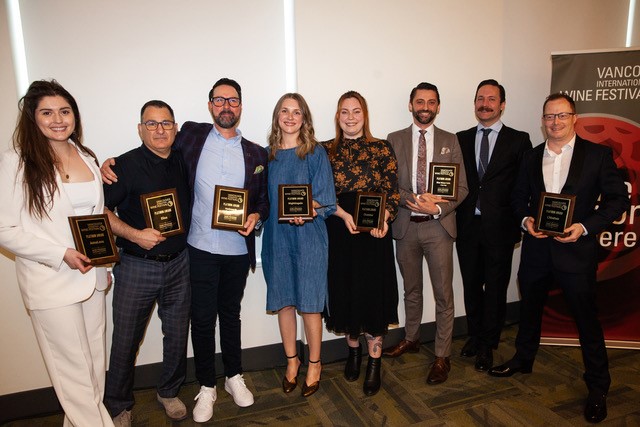 Applicants for the 2023 awards were required to do the following:
Tell us your wine philosophy (maximum 200 words), describe your staff education program, and provide copies of your current wine list and dinner menu, all in PDF format. Send to awards@vanwinefest.ca
Complete the Online Application and pay the non-refundable fee of $145 (October 11-November 25, 2022). Note: Late applications will be accepted between November 26-December 1 with a late entry fee of $215.
All submissions are carefully reviewed and critiqued by a panel of wine judges, who donate many hours of their time as consultants.
BENEFITS
All entrants received one ticket to each of the following Friday, April 28 Trade events ($158 value based on 2022 ticket prices)
Celebrating Excellence: 19th Annual Awards Lunch featuring South America
Winners received:
Recognition and an award (Platinum to Bronze recipients) at the 19th Annual Awards Lunch featuring South America
The opportunity to pre-buy additional Trade Days events
Online listing and a hotlink at VanWineFest.ca
Acknowledgement in festival ads
Self-promotion of a VanWineFest award-winning wine list on your restaurant's website, wine list and menu with a digital decal
Acknowledgement and promotion in VIWF marketing initiatives, including social media, press releases, e-newsletters, and print pieces
JUDGING
Our professional judges consider the philosophy behind your wine program and how successfully your wine & food pairing goals match that philosophy. They look for your efforts in training all serving staff on your wine program. They also consider the patron experience. Is your wine list easy to understand? Does it look clean and professional? Is it free of grammatical and spelling errors? Finally, do the wines on your list offer real value and encourage consumers to try new wines?
For further information please contact: awards@vanwinefest.ca