---
Friday, March 2, 9:30-11:15 a.m.
Recap by Debbie Trenholm, Savvy Company
Sitting down to 8 glasses of anticipated greatness with the people who made them was an experience that I never thought I would have.  Vintage Port is one of those wines that we've been told to wait to open when your grandchildren are old enough to drink. But here…we had Vintage Port fresh out of the bottles. Like bread straight out of the oven.  Leave it to the team at Vancouver International Wine Festival to create this unique wine experience.
The featured winemakers shared with us their personal stories of their love of port.  "In our country, it is a wine to drink anytime…not just with chocolate and cheese." Was echoed by all 8 in the panel.    At this stage – only 2 years in bottle – the Vintage port was exactly like a big bold red wine; rich & dark colour, intense & concentrated notes of blueberry & blackberry jam, smooth texture. We were encouraged to do as they do at in Portugal, open a bottle just like you do with red wine & enjoy with meals of BBQed steak, roast of lamb, duck, mushroom risotto.
Biggest lesson learned: buy 2 bottles of Vintage Port (not expensive anyways). Have one soon…and keep one for the grandkids…if they are lucky!
Moderator: Lynn Coulthard
Panelists: David Guimaraens, Rafael Molezun, Maria Pica, Jorge Ramos, Miguel Roquette, Jorge Rosas, Jose Teles da Silva, Cristiano Van Zeller
---
Friday, March 2, 9:30-11:15 a.m.
Recap by Karl Kliparchuk, MyWinePal.com
Spain has had a long history of winemaking, from classic Riojas, newer Mencia from Bierzo, to Cavas and more. During the Vancouver International Wine Festival, I and several other attendees joined Master of Wine, Barbara Philip to explore a wide range of Spanish wines and to listen to the forward-looking producers behind them.
Moderator: Barbara Philip MW
Panelists: Fernando Gimenez Alvear, Maria Anibarro, Andres Bastida, Javier Delgado-Aurteneche, Darrell Jones, Yves Laurijssens, Carlos Lopez de Lacelle, Manuel Louzada, Joao Machete Pereira, Sébastien Richard, Chema Ryan, Miguel Torres Maczassek
---
Friday, March 2, 9:30-11:15 a.m.
Recap by Valerie Stride, The Demystified Vine
Terroir. This was the theme term in the Truth in Terroir seminar led by moderator Mark Shipway, DipWSET, during the Vancouver International Wine Festival held February 24-March 4, 2018.
Panelists at the seminar covered the wine world nicely; everyone from winemakers to proprietors to export market managers were ready to talk about the cause-and-effect of what happens in the vineyard to what ends up in the glass. At the heart of the discussion, panelists were trying to reveal what truth there is in our notion of "terroir" and how it plays out from growing grapes to bottling vino.
Read more at demystifiedvine.com
Moderator: Mark Shipway
Panelists: Matias Barros, Joan Cusine, Matt Dumayne, Thomas Grootveldt, Antonio Morescalchi
---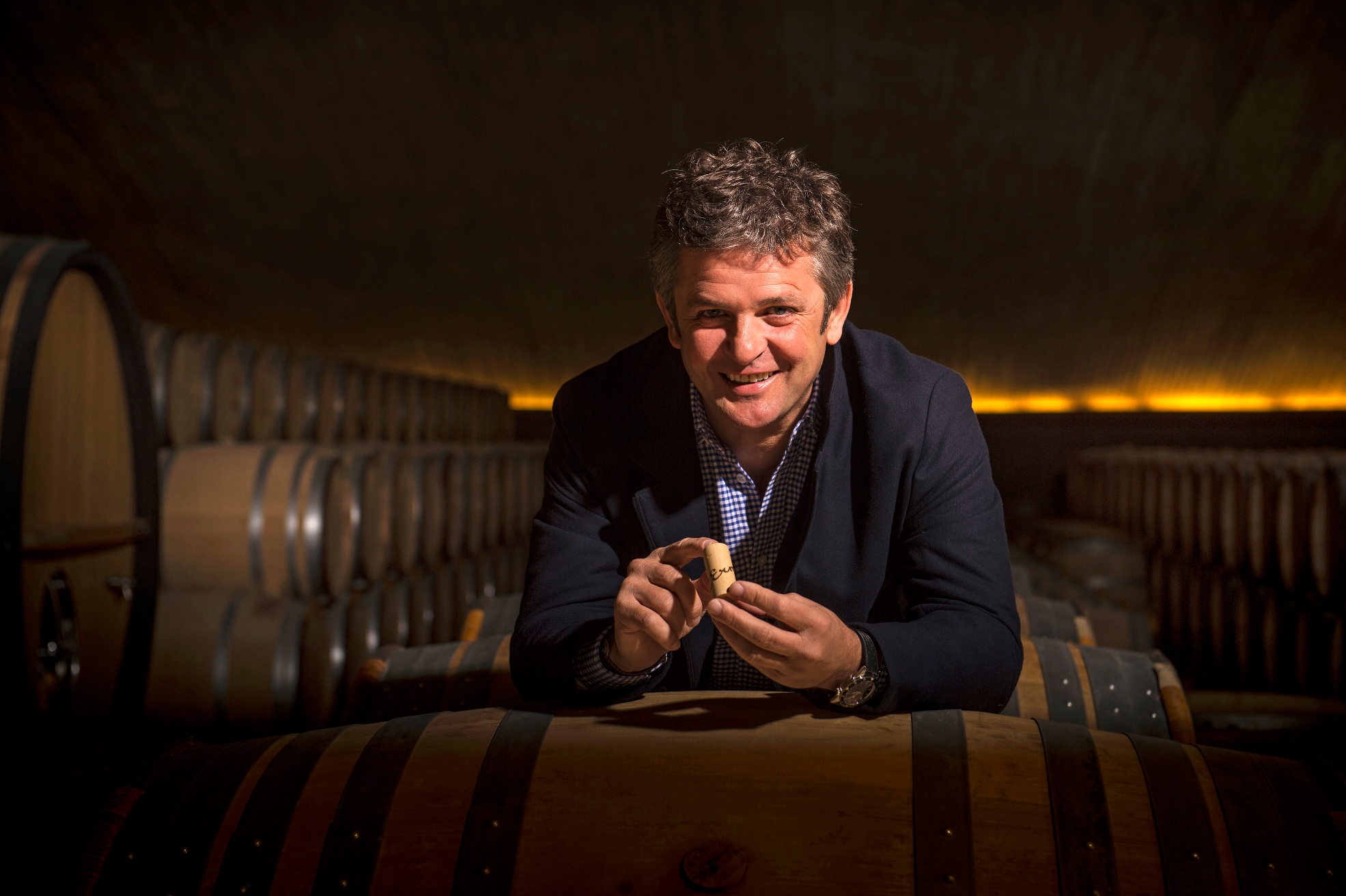 Friday, March 2, 5:15-6:45 p.m.
Recap by Christine Campbell, Girls Go Grape 
Pioneer. Wine Star. Visionary. All of these terms aptly describe Spanish winemaker, Álvaro Palacios.
One of nine children, Palacios was born into a winemaking family. With a desire to learn more about what makes wine outstanding, Palacios went to Bordeaux to study oenology. He worked under the supervision of Jean-Pierre Moueix at Château Pétrus. It was here that Palacios was, 'absorbed by the French philosophy'.
Moderator: Anthony Gismondi
Panelist: Álvaro Palacios
---
Friday, March 2, 5:15-6:45 p.m.
Recap by Monique Sosa
As a flurry of Pinot Noir enthusiasts settled into their seats of another sold out Vanwinefest seminar, the witty and esteemed DJ Kearney took to the podium and welcomed everyone with a video montage featuring warm and inviting scenes of that California culture we so admire.  The stellar panel seated in front of the attentive mob of Pinot fans closely resembled Leonardo da Vinci's acclaimed portrayal of The Last Supper rendering to the fact that this was no ordinary panel and California is no ordinary place.
One of my favourite Pinot Noir quotes was requoted during the seminar by Mark de Vere MW, representing Robert Mondavi Winery: "God made Cabernet Sauvignon, whereas the devil made Pinot Noir" (André Tchelistcheff, Wine Spectator).  Absolutely! Pinot is a fierce animal!  We often hear wine professionals refer to it as "the heartbreak grape" because when you attend to Pinot Noir, you are accepting an arduous journey of heartache and backache, regardless of the outcome.  Even for the fans, as DJ expressed during the seminar, "sometimes Pinot can let you down."  Its vintage, time in the bottle, or even its audience can, at times, contribute to an underwhelming reception.  However, all angst aside, Pinot Noir is beguiling and stimulating.  It's harmonious flavours, tantalizing acidity, and intricate structure lend to its memorable, versatile and refined status.
So why is Pinot Noir so darn 'special'?
The answer lies in its sense of place – the terroir.  Pinot Noir is a thin-skinned berry bunched in tight clusters making it hard grow.  It needs time and space to breath and is better suited to grow in cool climates.  Though, the formula doesn't end there.  We've learned that Pinot Noir is one of the oldest grape varietals in the world (over 1000 years older than Cabernet Sauvignon) and the United States is the world's second-largest grower and producer of Pinot Noir after France with a majority of the vineyard plantings based in California.  The reason why Pinot Noir is able to thrive in certain pockets of California's growing regions is due to its exposure to the thick coastal fog.  The fog predominantly acts as a moderating influence on California's warm temperatures offering a cooling and calming effect on the vines.
California is massive!  Where can we find these thriving Pinot Noir vineyards?
Neatly organized in front of every Pinot Noir – California Style seminar guest was a line-up of eleven benchmark renditions of Pinot Noir hailing from distinct American Viticultural Areas (AVA) in Northern California.  The key areas to note are the Sonoma Coast AVA, Anderson Valley AVA, Russian River Valley AVA, and Los Carneros AVA.
"It's tough to get a grasp of distinctly Sonoma Coast style Pinot Noir," as described by panellist Gillian Balance, Master Sommelier representing Beringer Vineyards and Etude Winery. It's a "500,000-acre AVA stretching from Mendocino to Los Carneros with [varying] microclimates and temperature ranges."  We can't expect Sonoma Coast vineyards to produce a consistent style but it's a great place to explore the nuances of California Pinot Noirs vintage to vintage.  It is also a great place to find exquisite value-priced Pinots.
Beringer Vineyards Sonoma Coast Pinot Noir 2015
Lake Sonoma Sonoma Coast Pinot Noir 2014
Anderson Valley Pinot Noirs, as agreed by the majority of the panellists, are "cherry and spice-forward."  You will often find a pronounced sweet sarsaparilla spice note on these Pinot Noirs offering a high spice to fruit flavour ratio, more texture and more than Pinots from the Sonoma Coast.
Kendall-Jackson Jackson Estate Outland Ridge Pinot Noir 2014
Duckhorn "Goldeneye" Pinot Noir 2014
The Russian River Valley's signature traits are its intense floral aromatics and concentration of wild red berry flavours.  These styles of Pinot Noirs offers up incredible food pairing opportunities.  As Dana Ryall, the panellist representing Deutsch Family Wines puts it, "my affinity for California Pinot Noirs resonates around the diversity of how well it has a relationship with food […] and the Russian River Valley offers something unique to others."
J VIneyards Russian River Valley Pinot Noir 2015
La Crema "Fog Veil" Pinot Noir 2015
Deutsch Family Wines Pinot Noir 2015
Finally, the most impactful Pinot Noirs in the lineup, in terms of structure, body and complexity, hailed from Los Carneros.  They poured with pronounce red fruit and spice aromas followed by a lively mouthwatering palate profile.  They are bold yet elegant.  They offer deeply concentrated cherry, cranberry and pomegranate fruit flavours balanced with mouthwatering acidity.  Gillian Balanced referred to  them as a "mixed bag."  Situated closest to the San Pablo Bay, they bare the brunt of the fog and are some of the most exciting Pinot to discover.
Black Stallion Winery Pinot Noir 2016
Etude Wines Carneros Estate Grace Benoist Ranch Pinot Noir 2015
Cherry Pie Wines Stanly Ranch Pinot Noir 2014
Robert Mondavi Reserve Carneros Pinot Noir 2013
Eleven Pinots! How do you pick a favourite?
A cruel question with a pretty complex response.  You see, I love Pinot Noirs that offer juicy mouthwatering lip-smacking acidity.  I love Pinot Noirs with elegance and seamless layers of fruit, subtle tannins, and a tangy finish.  I love Pinot Noirs that showcase alluring floral and spice aromas followed by enticing cranberry, cherry, pomegranate and savoury tobacco notes.  It's not as easy as it may seem to choose a "favourite Pinot."  Some Pinots have all these traits while others only have some.  As cliche as this may sound, I appreciated every single one of them.
Moderator: D.J. Kearney
Panelists: Gillian Ballance MS, Brian Bostwick, Tammy Brown, Mark de Vere MW, Jenny Hemmer, David MacDonald, Craig McAllister, Landon Patterson, Dana Ryall, Randy Ullom
---
Friday, March 2, 5:15-6:45 p.m.
Recap by Valerie Stride, The Demystified Vine
"What you are looking at in front of you is the national team of Portugal."
Paul Wagner, an instructor for over two decades for Napa Valley College's Viticulture and Enology Department, began our journey into what Portugal has to offer in the glass.
A history lesson progressed at this Vancouver International Wine Festival seminar, with rich description of how wine came to be and how Portugal took on making this historical libation.
Read more at demystifiedvine.com
Moderator: Paul Wagner
Panelists: Benoit Brumeau, Anna Budarina, Paulo Marques, Luis Mira, Rafael Molezun, Diogo Reis, Jorge Rosas, Rupert Symington, Cristiano van Zeller
---
Saturday, March 3, 5:15-6:45 p.m.
Recap by Tim Pawsey, hiredbelly.com

Decanter Magazine is the world's leading wine publication. And the Decanter World Wine Awards is the world's largest competition. Widely hailed, it's the benchmark by which all others are judged. Hence, this was a Vancouver Wine Festival tasting with a difference. All of the wines poured were top tier medal winners from the 2017 Decanter awards. They were presented by their winemakers or principals from around the world.
The panel was moderated by Barbara Philip MW. Ms. Philip is Canada's first and, to date, only female Master of Wine. She's also the European category manager and senior buyer for BC Liquor Stores. And is the wine columnist on CBC Radio One's On The Coast. Philip is a regular judge at the Decanter awards, held annually in London, England.
Moderator: Barbara Philip MW
Panelists: Matias Barros, Nikki Callaway, Alvaro Palacios, Isabel Ramos, Jim Robertson, Maria Mele Sosa, Miguel Torres Maczassek, Taylor Whelan, Sergio Zingarelli
---
Saturday, March 3, 5:15-6:45 p.m.
Recap by Julie Pegg, freelance food/wine/travel writer

Symington Family Estates is synonymous with port and its heritage. The family hearkens back to 1882. Holdings now include Warre, Van Zeller, Quinta do Vesuvio, Cockburn as well as the famed Grahams and Dow Port houses.
Over two nights Rupert Symington, the clan's self-confessed "accountant guy" held seminars on Graham's Tawny Ports and Dow's Vintage line. (I attended both).
During a most entertaining sell-out Dow talk at Marquis Wine Cellars, Rupert and his colleague Gustavo Devases, with wit and wisdom and a whack of old-school charm as sophisticated as the port itself, "toured" us through different Douro terroirs and how the best grapes come from vines that struggle in poor soils. We were tasted on eight remarkable Dow ports, including the much-ballyhooed 2011 vintage.
Before our noses went to glass and glass to mouth, the two gentlemen managed to pack in a lot of intriguing facts combined with whimsical anecdotes. They discussed the different varieties of grapes and how each lends specific personality the wines' blend (Touriga Nacional, Tinta Barroca Touriga Franca, and Tinta Roriz lend floral, earthiness, elegance and spice respectively).
Superior is not an indication of "better, but from vineyards further away—near the Spanish border" (said with a wry smile). We learn too, that these days robotic "toes" emulate the gentle pressing of foot treading, and that a Symington family member is responsible for the machine.
We were amused thoroughly, while tasting the spectacular 2011, with an anecdote of how Winston Churchill, tasted the legendary 1896 vintage with Morris Symington during WW1. Years later, Churchill ran into Morris on the street. He couldn't place Morris exactly, but he did remember the port!
Powdered stone, cassis and sandalwood notes are still tightly wound in the 2011 but there's no denying its pedigree. The 2003 had mellowed considerably. The 2000 finished with fruit peel and burnt orange notes—and rather like "wine", not port, while the 1985 and 1970 showed off hints of biscuit, tea and tobacco. The 2006 Quinta do Bomfin was liquid velvet.
Symington likened vintage port to 100 people in a room. At first it's all a lot of shouting, then the loud voices mellow and recede and the softer voices emerge. Symington concluded, "Unlike wines, a port vintage is declared. It's up to us to decide what is worth spending top dollar on, and what has the staying power and what we have eked from these miserable little bunches of grapes".
Moderator: Rupert Symington
Panelist: Gustavo Devesas
---
Saturday, March 3, 5:15-6:45 p.m.
Recap by Valerie Stride, The Demystified Vine
I knew it was going to be a good seminar when I could see the line-up of attendees curling around the corner of the hallway at the Vancouver Convention Centre on Saturday, March 3rd, 2018. People approached the front table asking, "is that the line-up to get in?" Yes, yes it was.
Folks eagerly awaited the doors to swing open, signalling their chance to run for seats; and did they! As I headed to the designated media area, and before I could even sit down, elderly ladies were flinging purses in hot pursuit of those precious front row seats in front of Spanish winemakers, proprietors, and other influentials. I was stunned.
But one thing is true when it comes to passion; nothing really will stop you from getting what you want. And people wanted to know more about Spain's Blockbusters.
Read more at demystifiedvine.com
Moderator: Rhys Pender MW
Panelists: Toni Batet, Daniel Castaño, Joan Cusiné, Javier Delgado-Aurteneche, Loren Gil, Miguel Gil, Darrell Jones, Manuel Louzada, Jose Luis Muguiro Jr., Carmen Oros, Chema Ryan