Why Volunteer?
Your work as a volunteer is an integral part of the Vancouver International Wine Festival. As a volunteer, you are contributing to the success of this fabulous event, and to our charitable beneficiary, Bard on the Beach Shakespeare Festival. You will also have a lot of fun being part of such an amazing event, meet new people and gain work experience. An event of this size and scope is just not possible without the work of volunteers, so THANK YOU!
How can I help?
Your role as a Festival volunteer is to carry out duties that are critical to the smooth and successful operation of each wine festival event. Duties may include (but are not limited to):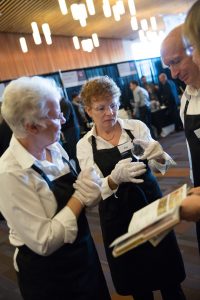 Tasting Room Set-up: requires heavy lifting and moving on your feet for the duration of your shift.
Tasting Room: filling ice tubs, water pitchers, handing out wine glasses; requires standing for the duration of your shift.
Ticket Scanning/stamping: crowd control at entrance doors, scanning, stamping; requires standing for the duration of your shift.
Special Events: access control for events, handing out glasses and event programs. Some events require you to assist with set-up and clean-up/tear-down after the event. Past Festival experience required.
Registration Assistant: typing, reading and writing skills required.
Office Jobs: assistance at Festival information desk, media or volunteer offices, answering questions and general office duties.
Where do I go?
Most volunteers are required to help at the International Festival Tastings and Trade Tastings (Thursday, February 29, Friday, March 1, and Saturday, March 2, 2024) at the Vancouver Convention Centre West. The Convention Centre is easily accessible by public transit, including the Skytrain. Pay parking is also available on the street or in parking garages.
All Volunteers must report to the Volunteer Office 15 minutes prior to their shift start time.
When?
The 2024 Vancouver International Wine Festival will take place from February 24-March 3, but the majority of volunteer opportunities are on February 29-March 2.  After submitting your volunteer application online at MyVolunteerPage, and upon your application being approved, you will be asked to sign yourself up for two shifts of five hours each. Your shift requests will approved based on your availability, experience and skills.
What?
What makes a good wine festival volunteer?
Responsible; Flexible; Organized; Strong people skills; Interested in the arts and wine; Intermediate to advanced level of spoken English.
What are the volunteer benefits?
With a commitment of two shifts (minimum of 5 hours per shift), you will receive a complimentary ticket to one of the International Festival Tastings (up to $135 value)
What do I wear?
Please wear dark pants or a skirt with a white shirt and comfortable dress shoes. For volunteers working in the tasting room, we will provide you with an apron to wear while you are working your shift.
What do I bring?
Limit the number of personal belongings you bring, as there is no secure storage.
What do I eat/drink?
Light snacks are provided in the volunteer lounge.
No sampling of wine is permitted while you are working. You will receive a ticket to come enjoy tasting room wines on a different night.
Food sampling is also not appropriate during your shift unless your supervisor invites you to enjoy some food samples.