---
Andrew Jefford: Keynote Speaker

Monday, February 24-Friday, February 28, 2020
Recap by Sid Cross
The one week 42nd annual Vancouver International Wine Festival (VIWF) spotlighting 162 participating wineries of which 42 represented theme country France concluded on March 1, 2020. Another amazing success story with 57 festival events highlighted this year by outstanding keynote speaker Andrew Jefford (AJ). AJ & family live in a small town in Southern France a part of the Montpellier district of the Languedoc-Roussillon wine region. He is a highly respected journalist with multiple awards for his many books (including The New France) and is contributing editor for The World of Fine Wine & Decanter plus Academic Advisor for Wine Scholar Guild. AJ joins a long list of top educators over many years at VIWF that started with Michael Mondavi in February 1979. So many have followed over the decades including early on Robert Balzer at the California Wine Festival, March 1981, Hugh Johnson for the sixth American Wine Festival, March 1984 and even this scribe who has been actively involved in some capacity for all 42 festivals. This tradition has carried on with AJ brilliant this year raising the level so high with his astute topical most intellectual comments delivered at these following seven events. You had to be there to savour the wonderful flavour of his delivery but here are a few concise educational notes:
Official #VIWF Opening reception
February 24 at Joey Bentall One
With the introduction of AJ and announcement that Bacchanalia Gala Auction at Fairmont Hotel Vancouver February 22 had raised $256,000 for charitable partner Bard on the Beach Shakespeare Festival.
VIP Festival Toast
February 27 Wine Mingler
AJ today on an afternoon walk along the scenic Stanley Park seawall next to the convention centre realized after 50 years in the business that the amazing thing about wine is the "Intellectual Aspect". Sure there is the enjoyment and pleasure of the wine experience but it also is the intellectual challenge of learning places, people, soils, grape varieties, vineyards, and vintages. The complexities of it all stimulates you as well as the enjoyment of the special beverage.
French Terroir Wine Seminar
February 28
AJ states that terroir is a French word but a universal concept. Just as your garden gives you tastier tomatoes in some parts of it better than others so is there a unique high quality difference between vineyard sites. Place is a key. However there are qualifications. Firstly only through human intervention can that terroir be established. Again he references Romanee-Conti being a tiny part of a vast forest that developed only after centuries of experimentation and Pinot Noir plantings and becoming cherished as a top red Burgundy. Unique terroir seems to be there in the greatest wines. Like finding a needle in a haystack. On the other hand terroir is not something that is required as you can make commercially attractive good wine without any terroir. It requires a long conversation between humans and a place before it can be established. An example is Champagne in the 12/13 century as sharp sour pale wine developed further in the 15/16 century on its way to what we know as Champagne today. All winemakers are at the service of their raw materials to make the terroir show. They are really midwives (trained to assist women in childbirth) trying to do the right thing at the right time to naturally reveal that terroir. 12 wines were tasted to show how grape varieties react to the place where they come from: Smoky Sauvignon Blanc of the Loire Sancerre, comparing the minerally Chardonnay character of Chablis to the richer style of the same variety in Montagny, the single vineyard Grossi Laue finest petrol Riesling plots in Schoenenberg Alsace, low yield Corton Grancey Grand Cru Pinot Noir in Bourgogne vs. fruity Julienas Beaujolais Gamay on usually granite, limestone and here more volcanic soils with stems & whole bunches fermentation, two very different Bordeaux from Right Bank St. Emilion Ch. d'Anielle Merlot and Left Bank Ch. de Lamarque thriving petit Verdot built on higher ground near Margaux above the marshes, and ending with four Rhône examples with subtle differences of two Northern Rhône both Cornas grown on steep slopes of decomposed granite soils using a single grape variety Syrah compared with more diverse grape variety blends in the South here these old bush vines mainly Grenache, plus Syrah and little Mourvedre & Carignan of juicy La Cote Sauvage Cotes du Rhone Villages in Cairanne (NE of Orange) and Mistral freshness showing in Chaâteauneuf-du-Pape usually a blend but Adrastee is rare 1500 bottles of 100% Grenache from over 100 years old vines. AJ summed up the tasting with terroir not just the soils but the totality of the whole specific vineyard place.
Many thanks Andrew Jefford for your most memorable learned contributions to the 42nd VIWF.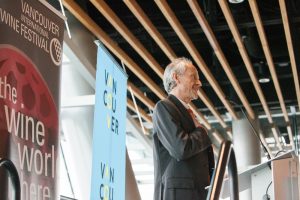 ---
Tuesday, February 25, 5:15-6:45 p.m.
Recap by Monica Zorawski, uncorkBC
If you're a lover of BC wine (and haven't been living under a rock for the past two decades), you've probably heard of Black Hills Estate Winery. They are especially known for their flagship wine, a Bordeaux-style blend called Nota Bene which made its debut back in 1999. Black Hills mainly owe the launch of their brand to local wine writer, John Schreiner, who predicted that the Nota Bene would become a "cult red wine capable of appreciating in value" from that very first vintage. Each year since its inception, the blend has been comprised of Cabernet Sauvignon, Merlot and Cabernet Franc.
At this year's Vancouver International Wine Fest, we had the chance to taste a vertical of 12 vintages of Nota Bene ranging from 2000 to 2015 at the swanky Vancouver Club. Their new winemaker, Ross Wise, led us through each wine with commentary on the variance in weather from vintage to vintage, technological changes at the winery throughout the years, and his personal tasting notes on each wine. What stood out for me was the ageability of this iconic BC wine. For example, vintages from 2000 to 2005 still had some very interesting characteristics, but I would recommend drinking them now if you're still holding on. Starting in 2006, they moved to a new winemaking facility, which came with more space and more technology, having a positive effect on future vintages. My personal favourites, 2007 and 2008, still have a lot of life ahead of them, so no need to rush. Looking back on my notes, I can't help but laugh at my thoughts that the 2007 Nota Bene exhibited "a sour bacon quality, but in a good way?" Everyone around me was so into the tasting, we couldn't help but toss around some unique descriptors. Jumping ahead to 2012, Nota Bene was increased from 10 months of aging in oak, to 18 months, and this was also their only vintage that was Merlot dominant instead of Cabernet Sauvignon. Naturally, this vintage is lighter in body than the others due to the blend, and the experts in the room suggested pairing it with a duck dish rather than steak. The three vintages after this point were lovely of course, but could use a little time in your cellar before you crack them open.
Once we were through all 12 wines, we were asked to submit our favourite vintage. The winners were:
#1 – 2013 Vintage. Perfect weather from budbreak all the way to harvest.
#2 – 2007 (my personal favourite) & 2009 Vintages Tied for 2nd Place.
Panelists: Glenn Fawcett, Ross Wise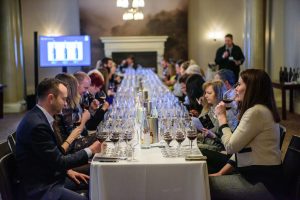 ---
Thursday, February 27, 5:15-6:45 p.m.
Recap by Shirley Roy, Sommelier, Savvy Company
As a wine lover, you likely look closely at a lot of wine labels. Some of them will tell you if your favourite wine is a blend of different grape varieties or different wine regions – and some of them won't.
The Blending California-Style seminar was packed full of learning opportunities about why wines are blended and details on the painstaking work of California winemakers to create those special wines we love so much. They don't just consider blending grape varieties, but also blending grapes from different vineyards, soil types and barrel types!
The nine winery representatives on the seminar panel each had a chance to talk about the reasons they blend – with balance, complexity and consistency being the top 3. There have been a few wine reviewers who have raised concerns about blending in the past, with some saying it can obscure terroir or confuse the consumer. But it's worth noting that under the wine laws of most wine regions of the world, some blending can be done – sometimes as much as 25% – even in those wines labelled as a single grape variety or region!
Winemaker Chris Benziger from the well-known California wine making family, brought things into focus for me when he described how his Sonoma Mountain Estate vineyard has some vines in areas that get a lot of sun, which he called his 'fruit basket' vines and then other vines in shady or different soils – which he called his 'spice rack' vines. As wine and food lovers, we all know a sprinkle of something magical can take whatever you're creating to the next level.
Moderator: DJ Kearney
Panelists: Chris Benziger, Jamie Benziger, Mark de Vere MW, Jason Diefenderfer, Yoav Gilet, Joseph Lange, Benjamin Menouret, Thomas Price MS,  Ray Signorello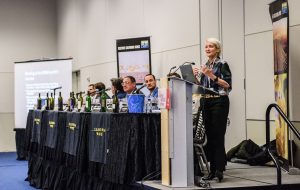 ---
Thursday, February 27, 5:15-6:45 p.m.
Recap by Bill Tieleman, www.WineBarbarian.ca

A spellbound Vancouver International Wine Festival seminar audience found out what famous French wine families have in common at The Family Spirit, featuring some of France's best-known winery personalities and moderated by the Vancouver Sun's Anthony Gismondi.
"We share one common stress: everywhere we go, people know you because your name is on the bottle!" explained Clovis Taittinger, of Champagne Taittinger, adding to laughs: "Sometimes you want to hide and say: 'I'm not responsible for what's in the bottle!'"
Laurent Drouhin of Joseph Drouin in Burgundy agreed, saying "It's not a business, it's a passion… and I don't want to be the one remembered as having screwed everything up!"
But Laurent and the other speakers were also quite serious about what drives a family wine business: "There are things you aren't learning in books – authenticity, loyalty and integrity." Added Nicolas Galy, of Gérard Bertrand in Languedoc: "One thing we have in common – tradition and stories!"
Indeed! The stories were also matched with some of the finest wines in France, from Champagne to Burgundy to Bordeaux to northern Rhône to the south of France, with James Sichel of Maison Sichel and Adrien Laurent of Paul Jaboulet Aine also emphasizing the importance of family in making some of the world's finest wines.
Moderator: Anthony Gismondi
Panelists: Laurent Drouhin, Nicolas Galy, Adrien Laurent, James Sichel, Clovis Taittinger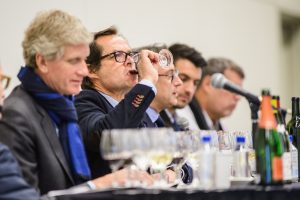 ---
Friday, February 28, 5:15-6:45 p.m.
Recap by Karl Kliparchuk, MyWinePal.com
Andrew Jefford is an English journalist, radio presenter, poet, magazine editor, a wine writer for Decanter magazine and much more. He lives near Montpellier in France. Why am I telling you this? Andrew led the French Terroir Talk seminar at the Vancouver International Wine Festival. If there was anyone with the background knowledge of wine and experience of living in France that would be best suited to host this seminar it would be Andrew. And he did not disappoint. Along with Andrew, we had 12 French wine producers to talk about the "Cru" wines we were tasting at this seminar. The wines covered the regions of Alsace, Chablis, the Côte d'Or, Beaujolais, the Médoc, Saint-Émilion, Sancerre, Cairanne, Cornas, and Châteauneuf-du-Pape.
According to Andrew when we speak about terroir we are talking about quality of a wine and not quantity. We are as well describing a uniqueness or difference in a wine based on a set of grape varieties growing at a site. Terroir also requires human intervention, which initially sounds very controversial, but Andrew had discussed with us how technical innovation brought out the terroir for a region, such as in Bordeaux. Before dams were built in Bordeaux, this was a marshy region which could not grow grapes. Through human intervention we were able to dry out the soils in Bordeaux so that grapes could be grown and the terroir could be expressed. Similarly in an area covered by trees or other scrub brush, it is through human intervention to clear the land and plant grape vines that we can experience the terroir of the region.
Andrew's last point about terroir is that to experience the best terroir that can be expressed for a region takes time. Not just one or two years. It may take generations. For example in Burgundy, it took the monks several hundreds of years to figure out which grapes grew best on particular soils at particular slopes facing particular directions. There are over 400 different soil types in Burgundy which influenced the grapes and the quality of the grapes. We now have 100 appellations in Burgundy and four quality categories. In the past the wines the monks would have tasted and made would be much different from what we are now drinking.
Here in British Columbia with our modern winemaking history starting approximately in the 1970s, we are still trying to figure out the best grapes for different soil types and microclimates we have from the interior to the coast.  In theory we should be able to properly bring out terroir, through painstaking testing and tasting but it will take time.
That being said, Andrew did point out that we don't need terroir to make good wine. We can have a tasty sippable wine without wanting to be able to taste the rocks that make up the soil in a region or to know if the weather was slightly cooler or warmer in a particular growing season. Terroir does not necessarily make a wine commercial and sell-able.
That being said, climate change will rewrite terroir. We can see this with vineyard researchers experimenting with growing new grape varieties in regions known for certain grapes. Take Napa Valley for example. Most people would think of Cabernet Sauvignon for Napa Valley but the temperatures are getting too hot and there is less water available for this grape to express itself properly, so other varieties like Touriga Nacional, Alicante Bouschet, and Mourvedre are being planted and tested. During the seminar, we were told that some clones of particular grapes could allow a particular grape variety to continue to be grown in it's known/acknowledged region. Some clones may be better suited to drought conditions but were not planted many years ago as the climate was not as hot so other clones were planted that may have been more flavourful, had a wider variety of aromas, etc. Terroir is becoming a moving target in my opinion.
Read Karl's tasting notes at MyWinePal
Moderator: Andrew Jefford
Panelists: Mark Allen, Vanessa Aubert, Jean-Luc Colombo, Camille De Vere Green, Laurent Drouhin, Julien Dugas, Manon Flores, Michel Gassier, Jean Frederic Hugel, Adrien Laurent, Marion Lopez, and Olivier Rivain.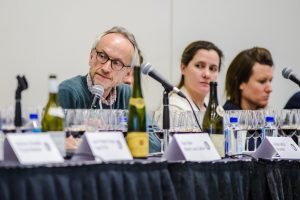 ---
Friday, February 28, 5:15-6:45 p.m.
Recap by Barbara Wild, goodwinegal.ca
This past week I attended Vancouver International Wine Festival. It's one of my favorite times of the year here in Vancouver as we experience the wonders of the wine world.
With great appreciation I accepted my media assignment – to cover the seminar called Grapes Unknown featuring grape varieties of which you have never heard.
Thank you to the producers, the agencies, the sponsors and the festival for making this opportunity to taste "grapes unknown". Interacting with the presentation by tasting and contemplating the wine style is a great way to learn.
Hosted by James Nevison, and attended by a great panel from around the globe, we wasted no time as we swirled, sipped and savoured our way from Spain, France, Italy, Croatia, and even the Okanagan Valley.
Of note, we had three women on the panel, two of which were winemakers.
Do you know these Grapes Unknown?
Verdejo
Presented by Maria Lopez, Proprietor of Bodega Sarmentero we tasted Verdejo 2018 from Rueda, Spain.
The root of Verdejo is Verde, meaning green and is the color of the grape before harvest. This variety is common in Spain yet undiscovered here. The style is fresh, dry, medium bodied with aromas and flavours of grapefruit, green apricot, pineapple and peach. This wine has a great balance of acidity, alcohol and the finish is long. It goes great with grilled white fish, goat cheese or a patio! The price is under $20 before tax.
Feteasca Regala
Presented by Miron Radic, General Manager of Liliac Winery we tasted Feteasca Regala 2018 from Transylvania, Romania.
This grape variety has siblings Alba (white) and Negra (Black) and grown on terraces at 480 to 600 meters in calcium heavy soils. This cool climate white has crisp, pretty aromas of muscat (orange blossom) and flavours of citrus (lemon, lime and grapefruit) on the palate. It is dry with racy acidity, mineral texture, good balance with citrus finish. It is a perfect oyster wine, raw or pan fried. The price is $23 before tax.
Bombino Bianco
Presented by Daniela Facciani, Export Manager at Poderi dal Nespoli we tasted Pagadebit di Romagna 2018 Emilia Romagna, Italy made from Bombino Bianco grapes.
This indigenous variety is resistant to disease and very productive with thick skins that provide color. On the nose, delicate fresh flowers (white jasmine) melon, lime leaves, mineral salts. On the palate dry, good balance of acidity and alcohol. This is juicy, fresh and subtle recommended with seafood and sushi. Great price and a recommended mid-week wine at $15.99 before tax. Available at Firefly at 12th and Cambie.
Pecorino
Presented by Cristiana Tiberio, winemaker at Tiberio we tasted Pecorino IGT 2018, from Abruzzo, Italy.
This ancient variety has been resurrected by Tiberio here in Abruzzo and showing it's big character. It is full bodied, dry, rich and silky, with aromas of citrus (lemon curd), herbs (rosemary, thyme), botanical, and nutty (hazelnuts, almonds) with high acidity and flavours lingering on the finish. This wine suits risotto, roasted chicken or pork dishes and stronger cheeses. The price is $25 before tax.
Trebbiano
Presented by Rob Summers, winemaker at HesterCreek Estate Winery we tasted Old Vines Trebbiano VQA 2019 from the Golden Mile Bench in the Okanagan Valley.
These old vines were brought to Canada likely in a suitcase in 1968 from Italy where Trebbiano is common and abundant. These vines are now 51 years old and producing a wine that is youthful. The aromas of fruit and flowers were jumping out of the glass with a definite stone fruit character to follow. On the palate, it is a little off dry with lots of mouthwatering acidity. The balance was great. I wanted to keep sipping. If you are looking for a summer sipper this is it. At $23.95 it's not a bargain but you won't be disappointed. Nice showing from BC. Call the winery direct.
Aligote
Presented by Philibert de Vregrille, export manager from Maison Louis Jadot we tasted Bouzeron 2016 from Burgundy, France.
Not to be confused with Chardonnay, Aligote (a – lee – go – tay) is one of the approved white grape varieties that is getting better and better. Coming from the Cote Chalonnaise, this grape is grown in high density plantings, machine harvested but not pressed. Part of the juice spends time in oak and you can detect a little of this on the nose. The wine however has excellent balance, dry with a rich medium body, nice mouthfeel and a precise green fruit spine (limes pithe even) that leads to a long finish. Quality wine from a quality producer and you won't break the Burgundy bank on this one at $36 before tax. Not yet available in our market.
Picpoul de Pinet
Presented by Laurent Sauvage, winemaker from Fortant de France we tasted Picpoul de Pinet Grand Terroirs 2018 from Languedoc-Rousillon, France.
Lots of restraint on the nose, if anything salty minerals, it was rich on the palate, dry with more saltiness, herbs and white pepper notes. You can immediately taste why this is an oyster wine. I personally would have liked a little more acidity but this style is very distinctive and specific to this small, ocean facing region in the south of France that is all about oysters, shellfish and patio fun! Not a bargain at $30 a bottle, but if you have not yet tried Picpoul, this is your chance.
Clariette Blanche
Presented by Bernard Duseigneur, proprietor and winemaker at Domaine Duseigneur we tasted Châteauneuf-du-Pape Blanc Catarina 2018 from the Rhone Valley.
Clairette is one of the 18 approved grape varieties in Chateauneuf du Pape. This variety comes from a single vineyard, which suggest quality and care. In other parts of the south, Clairette blanche is used for blending or for traditional method sparkling wine. It tends brings acidity, alcohol, body but not a lot of aromas and flavours. Here we have lots of restraint on the nose with delicate fruit and flowers on the palate of citrus (lime, lime zest) herbs (lime leaves, mint) smoke and white blossom. It's a big style that suits roasted poultry and meat dishes. This wine will age. The price speaks to its high quality and rarity at $70 before tax. What a beauty!
Savagnin
Presented by Micolas Haeffelin, oenologist & wine specialist of Alsace & Jura, representing Marcel Cabelier we tasted Savagnin from Château Chalon 2009 from Jura, France.
This is a very unique grape variety that is indigenous to the Jura. The winemaking style is also very unique where "flor" is allowed to form on the surface of the wine as it ages in barrel, imparting particularly distinctive and identifiable "sherry" like aromas and flavours in the wine. The aromas are mushroomy, citrus (dried orange peel) nutty, dairy (yogurt, cheese) and saline. On the palate you've got dry, mouth watering acidity with medium body and a great balance of acidity and alcohol. This is a savoury wine. It is so unique and delicious that you'll keep coming back and maybe break the budget. Bottles sell for $74 before tax. You can age for a couple of decades or drink now. I find it hard to resist.
Lambrusco
Presented by Ermes Scardova, export manager for Medici Ermete we tasted Lambrusco Grasparossa Quercioli NV from Emilia-Romagna, Italy.
Lambrusco is an ancient grape variety with many siblings. It is one of the oldest native varieties in Italy. This style is famous for being a foodie's wine and a perfect pairing to salumi, antipasto, and strong cheeses in part because of the ripe black plum and berry fruit flavours and in part because of the sweetness. It's a perfect balance of fruit, acidity and alcohol My teeth were definitely purple after this one. It's a bargain at $17 before tax and will turn you into a foodie for sure.
Aglianico
Presented by Paride Nardotto, export manager for Tommasi Family Estates we tasted Paternoster Rotondo Aglianico del Vulture 2013 from Basilicata (which is the arch of the boot of Italy), Italy.
Rotondo is the historic village where the vineyard sits at 500 meters of elevation, this area has big sirocco winds that control disease naturally. Here the vines are guyot trained low to the ground in tuffeau soils (which hold water). There is no irrigation. The ripening season is hot and very long with harvest in November. Aglianico is often referred to as Barolo of the south and this is no exception. There was lots of power with high alcohol, high acidity, high texture tanning and tart drying flavours to the finish. I found black fruit herbs, lots of salty minerals and chalky texture. You definitely need a grilled rib-eye to marry power and flavour. Compared to the prices of Barolo this may be a bargain at $56 before tax.
Teran
Presented by James Nevison (as Moreno Coronica was not able to attend) wine writer for The Province and Had A Glass, we tasted Coronica Wines Gran Teran 2015 from Istria, Croatia.
Teran is another ancient variety that has grown in Istria for centuries. It's bunches are tight clusters of deep ruby red fruit that has thick skins making it resistant to disease. This high quality grape produces wines that are also deep ruby in color, with colour coating the inside of the glass. The nose is spicy black cherry with good intensity. On the palate it's dry, full body, high acid with balanced alcohol and textured young grippy tannins. This style is only produced in the best years. Of late that means vintages 15, 16, 17 and 18 have been produced. You can age this one or decant and drink now with a good grilled Tomahawk steak. The price is right $56 before tax.
Don't be surprised if you can't find these "grapes unknown". It appears that some have arrived and others have not. Some were never meant to arrive. Maybe this gives you reason to travel. Get out there and discover grapes unknown. Albeit, wait until the pandemic passes. You can consider the internet of things for this. Why not try living on line with a glass of wine!
Moderator: James Nevison
Panelists: Bernard Duseigneur, Daniela Facciani, Nicolas Haeffelin, Maria Lopez, Paride Nardotto, Miron Radic, Laurent Sauvage, Ermes Scardova, Rob Summers, Cristiana Tiberio, Philibert de Vregille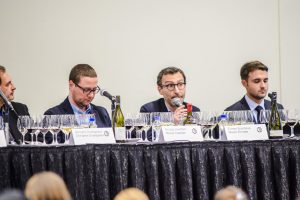 ---
Saturday, February 29, 5:15-6:45 p.m.
Recap by Karl Kliparchuk, MyWinePal.com
What is meant by a "Cru" in wine? The term Cru is most often used for the French classification system, but the Cru concept can apply to any vineyard region recognized for their superior wine quality.
My last seminar during the Vancouver International Wine Festival was on the topic of Cru. What it is and how it is expressed. We had Evan Goldstein and Sara D'Amato, both wine educators, to talk about Cru and to moderate a discussion with our panelists from around the wine world.
Let's Talk About Cru
Evan and Sara began by defining "Cru" as a "vineyard or a group of vineyards, especially one of recognized quality". The quality of the grapes coming from terroir, defined as the combination of factors including:
soil and drainage
slope and aspect of the land
sun and exposure
micro-fauna (microbes in the soil)
climate
They also mentioned, as did Andrew Jefford in the French Terroir Talk, that terroir also needs human intervention. In the winery, it can be things such as choice of yeast, types of oak barrels, and winemaking techniques. In the vineyard, it can be things such as trellising, spacing, and methods to harvest the grapes.
We moved onto a discussion on how climate affects wine style. In general, a cooler climate produces less ripe grapes with lower sugar levels and higher acidity which leads to lower alcohol content and body in the wine, and some may say then more expressive of terroir. While in a warmer climate you get riper fruit with higher sugar levels and lower acidity, which leads to higher alcohol and more body, and some may say shows less terroir. With global warming though the cooler climates are becoming less cool, resulting in riper fruit with more sugar.
We then delved into pairs of wines covering a specific grape type or blend, which could be from the same or different parts of the world, but represent superior quality, Cru, wines.
Read Karl's Tasting Notes at MyWinePal.com
Moderator: Evan Goldstein MS, Sara D'Amato
Panelists: Grant Bellve, Donal Black, Alessandra Boscaini, Laura Catena, Michael Clark, Jean-Luc Colombo, Mark de Vere MW, Emily Falcouner, Jose Luis Muguiro, Jorge Ramos, Antonio Zaccheo, Jr.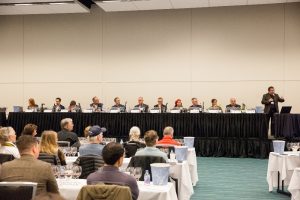 ---
Saturday, February 29 1, 5:15-6:45 p.m.
Recap by Maggi Mei, VieAMaggi.com
I am a big fan of the International Wine Festival, I attend the grand tasting every year, and have done a few events over the years. But this year I was especially excited to be part of a class that would expand my wine vessel knowledge, while drinking out of them. This is The Shape of Wine seminar hosted by Riedel, The Wine Glass Company at the Terminal City Club. A unique class that gave us the background on this well known wine glass company, and how each of their glass' shape effects the bouquet of wine you are having.
Not your typical wine tasting this one is hosted by Riedel's Regional Manager, Alysha Harker, as she guides you on a journey through your senses. As listed on the event page: "Discover how glass shape changes your wine as you sample Chardonnay, Riesling, Pinot Noir, and Cabernet Sauvignon in the Performance Series, Riedel's new ultimate loudspeaker for fine wine. The set of glasses is yours to take home!"
Glass by glass, we would taste the wine as it was intended in the proper varietal vessel, then again and again in glasses that left it flat and lifeless. Our wine changed from the best to the worst, thus proving what you drink out of definitely makes a difference.
Riedel is an 11th generation wine glass company, making glassware for over 265 years in Austria. The origin story begins with a bottle of fine wine that didn't taste the same from vinery to home. Where Riedel's founder saw an opportunity in the mechanism he was using to drink out of. Fast forward, their glasses have earned them the best invention title at the museum of modern art. With their first customer being the queen, who ordered 99 glasses for her party. Down the road, they were also the ones to invent stemless glassware.
Their focus is on varietal specific stem wine. They work with master wine markers and sommeliers to design a glass that goes best with the grapes of that region. The physics of the bowl, length, and rim diameter are taken into account. The goal, to have the wine hit the tongue perfectly to make it taste the best, as parts of the tongue do taste things differently. This is where they introduced flow into the equation. How far to tilt your head back when drinking, to taste the wine at its best?
Our wine class featured four wines and four glasses. The Culmina Family Estate Winery N° 003 En Coteaux Riesling 2016 in the Riedel Performance Riesling glass, the Black Hills Estate Winery Chardonnay 2018 in the Riedel Performance Oaked Chardonnay, the Quails' Gate Winery Stewart Family Reserve Pinot Noir 2017 in the Riedel Performance Pinot Noir, and the Majella Wines Cabernet Sauvignon 2017 in the Riedel Performance Cabernet. We would leave with our bellies full of wine and chocolate, and a whole set of glasses to take home as a keepsake. And honestly having tried wine in their proper vessels, there is no other way I want to have it. The only down side to this education is not having the perfect glass for all the wines I might buy, and definitely not getting the proper glass at any given restaurant. I finally fully understand the saying "ignorance is bliss". Nonetheless, I do not regret my new found knowledge and have actually downloaded their app so that I can now only buy wines that I have the proper vessels for.
I will do my best to try and describe the experience in my usual vivid detail, but truly there is no better way than to try this experience for yourself. Before we got into tasting each glass of wine, the panelists that represented the winery spoke to it.
Read Maggi's full tasting notes on VieAMaggi.com.
Moderator: Alysha Harker
Panelist: Ross Baker, Brian Lynn, Sara Triggs, Ross Wise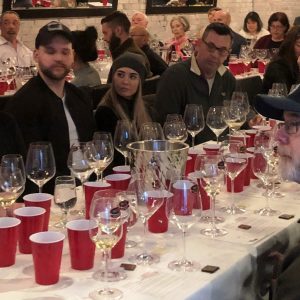 ---
Saturday, February 29, 11:30 a.m.-2 p.m.
Recap by Regina Ip, Vancouver Pigout
In addition to the Grand Tasting, I have also attended two other events hosted by the Vancouver International Wine Festival, and one of them the PICA Kitchen Party, my favourite event of all. It was held at the Pacific Institute of Culinary Arts (PICA) at Granville Island. It features international wines, paired with small bites prepared by top Vancouver chefs from various restaurants. The PICA Kitchen Party is co-hosted by the embassies and consulates from Australia, New Zealand, Spain, and the United States. Lucky for Yuki and I, it was a sunny day, which makes Granville Island the best place to explore after the event. The party started at 11:30a.m. on Saturday, and it was a 2-hour long event.
Every guest is assigned a number at the entrance, and that's the kitchen we start from. We were greeted with a glass of champagne – Marques de Riscal Rosato 2018. Make sure to hold on to your glass because that is for your wine glass during the party.
As usual, guests are free to drink wine and taste food as they wish. We went back to some kitchens multiple times to get second bites and wine pairing.
We started at Kitchen 5 with a personal chef, Jefferson Alvarez, featuring a beautifully presented bite-size snack, Foie Gras Sablée, paired with Bodegas Juan Gil Kentia Albariño 2018.
Kitchen 6 is prepared by Chef Lucais Syme from Autostrada – Short Rib Arancini, paired with Ste. Michelle Wine Estates Cosmic Egg Cabernet Sauvignon 2017. This is one of my favourite dish, and we went back to savour on the biggest piece left in the kitchen at the end.
Kitchen 1 is hosted by Chef Ken Nakano from Shanghai-la Hotel, featuring Wagyu Beef Cheek, paired with Michael David Winery Petite Petit 2017. My second favourite dish of the event goes to this one, which the beef cheek is tender and juicy.
Kitchen 2 is prepared by Chef Sean Reeve from Say Mercy. The dish is delicate with many elements in just one bite – Crispy Sunchoke & Smoked Pork Rillette, paired with Segura Viudas Gran Cuvée Réserva DO Cava NV.
Kitchen 3 is by Chef Sean Murray from Pan Pacific Hotel – Smoked Sunshine Coast Sturgeon, paired with Marisco Vineyards The King's Thorn Pinot Gris 2018.
Last but not least, kitchen 4 features two dishes. One from Chef Ian McHale from Wildebeest – Chicken Liver & Foie Gras Parfait, paired with Jackson Family Wines: Oregon Penner-Ash Willamette Pinot Noir 2017.
The other one is from Chef Brian Luptak from PICA – Caramelized Haida Gwaii Kelp & Toasted Oat Crisp, paired with Angove Family Winemakers Warboys Single Vineyard McLaren Vale Grenache 2017.
We ended our events with some desserts prepared by PICA.
Time went past so fast at this event. PICA Kitchen Party allowed me to try dishes from restaurants I have never tried. It was great to have conversations with chefs and other guests, which is also a rare opportunity for me. So now it came down to the same question: is this event worth $99? Yes, especially for people who love wine more than me! I didn't drink much wine, but I ate quite a bit. Each small plate is prepared in front of you, and chefs use high-quality ingredients and amazing techniques. I am certain you won't get disappointed from this event.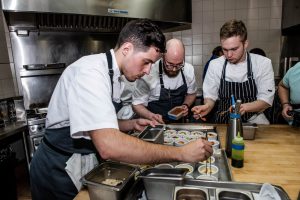 ---
Sunday, March 1, 11:30 a.m.-2 p.m.
Recap by Tim Pawsey, HiredBelly
It's a wrap! Sunday's Vintners Brunch capped off in style another highly successful Vancouver International Wine Festival. Sponsored by the Vancouver Sun, Vintners Brunch is the week's undisputed highlight for those lucky enough to attend. After all, it is one of the fastest selling events in the festival.
The scenic room overlooks the harbour and North Shore Mountains. It complements perfectly the wealth of local talent that drives this event.
We take so much about the festival for granted. That includes the role played by legions of volunteers and the work that goes on behind the scenes. Imagine the overnight effort required to transform the International Festival Tasting into a brunch venue. With hundreds in attendance, plus 15 restaurants and 16 wineries, it's no mean feat.
After 32 years Vintners Brunch remains the festival's most popular event. How come? In great part it's because the mood is so relaxed. And everyone is ready to dance by the time they've worked their way through 15 dishes.
From our perspective in the (windowless) judging room, every year the dishes and wine pairings just keep on getting better. In short, the competition—and the pace—is fast and furious.