Tickets are only available by phone or in person.
Vintners Brunch takes you on a tour of top restaurants and caterers, each one pairing a dish to a specific wine from around the world. Chefs and wine personalities share the secrets of their wine and food pairing. Professionals from the food and wine industry will be on hand to choose the winner of the annual Judges' Choice Award – and you can vote on your favourite pairing for the Peoples' Choice Award. Once your appetite is sated, hit the dance floor to burn off some calories. This perennial wine and food pairing experience is not to be missed.
The 2019 Judges' Choice Award went to Bauhaus Restaurant, paired with Louis M Martini Winery Monte Rosso Gnarly Vine Zinfandel 2014. See all the 2019 winners here!
Limit of 10 tickets (one table) per order.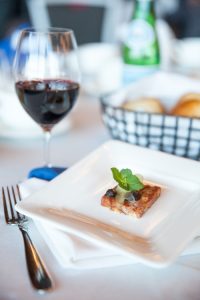 Participating Restaurants
ARC Restaurant, Fairmont Waterfront
Bauhaus Restaurant
D'oro Gelato e Caffe
Fanny Bay Oyster Bar
Lift Bar Grill View
Lot185 Café + Wine Bar
Notch8 at Fairmont Hotel Vancouver
Ocean Mama Seafood
Old Vines The Restaurant at Quails' Gate
Origo Club
Royal Dinette
Showcase Restaurant and Bar
Sonora Room at Burrowing Owl
Vancouver Convention Centre
Verre
Also featuring Arla Foods, Terra Breads, San Pellegrino, and Nespresso
Featured Wines
Vini Tonon Villa Teresa Organic Prosecco NV, Veneto, Italy
Cono Sur Vineyards & Winery Sparkling Brut Rosé NV, Bio Bio Valley, Chile
Wirra Wirra Scrubby Sauvignon Blanc 2018, Adelaide, Australia
Verum Bodegas y Vinedos Malvasia 2016, Castilla La Mancha, Spain
Quails' Gate Winery Chardonnay 2016, Okanagan Valley, British Columbia
Jasci & Marchesani Eco Pecorino Abruzzo DOC Superiore 2016, Abruzzo, Italy
Lake Breeze Vineyards Roussane 2017, Okanagan Valley, British Columbia
Burrowing Owl Estate Winery Chardonnay 2016, Okanagan Valley, British Columbia
Aquilini Red Mountain Horse Heaven Hills Syrah Rosé 2017, Columbia Valley, Washington
Yalumba Old Bush Vine Grenache 2017, Barossa, Australia
Wente Vineyards Riva Ranch Single Vineyard Pinot Noir 2016, Monterey, California
Culmina Family Estate Winery Cabernet Franc 2014, Golden Mile Bench, British Columbia
Gil Family Estates Juan Gil Silver Label Monastrell 2016, Jumilla, Spain
Osoyoos Larose Le Grand Vin 2015, Osoyoos, British Columbia
Louis M Martini Winery Monte Rosso Gnarly Vine Zinfandel 2014, Sonoma Valley, California
Familia Zuccardi Julia Natural Sparkling Sweet NV, Mendoza, Argentina
Wines and participants subject to change