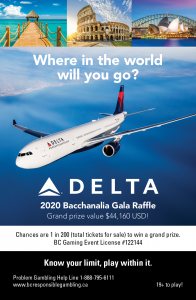 Congratulations to Tom Webster, the winner of the 2020 Gala Raffle.
The sold-out raffle for two Delta One International Business Class tickets was donated by Delta Air Lines and raised $20,000 for our charity partner, Bard on the Beach.
Where in the world will you go?
Picture yourself on a golden beach in the South Pacific with someone special – or exploring some exotic, faraway city you've dreamed of visiting someday. Your dream could be coming true!
Delta Air Lines has donated two round-trip Business Class tickets to anywhere Delta Air Lines flies for the 2020 Bacchanalia Gala Raffle.
Chances to win this incredible prize are 1 in 200 (total tickets for sale) to win the grand prize.
Ticket price: $100 CAD
Value: $44,160 USD (about $58,000 CAD)
The winner will be determined by manual draw at the Bacchanalia Gala on February 22, 2020 at Fairmont Hotel Vancouver at approximately 10 p.m. Attendance is not required to win the prize.
Proceeds in support of:
Bard on the Beach Theatre Society
201-162 West 1st Ave, Vancouver, BC. 604-737-0625
Charitable Registration #12964 4928 RR0001
For more information, visit the Bard website.
Gala raffle sponsored by: