The 43rd Vancouver International Wine Festival is scheduled to take place May 16-22, 2022; the inaugural year was 1979. The board chair is Arv Sooch; executive director is Harry Hertscheg CWE, DipWSET.
The wine world comes to Vancouver for Canada's premier wine show. The Vancouver International Wine Festival is one of the biggest and oldest wine events in the world, offering something for every level of wine drinker, collector and trade professional. In 2022, 100 wineries from 14 countries will be attending the festival to pour and discuss their wines at 27 events over seven days.
The heart of the festival is the International Festival Tastings at the Vancouver Convention Centre, where each winery will pour 4-5 wines for the public at four International Festival Tastings and for the hospitality industry at two Trade Tastings. The room also features food suppliers and industry exhibitors, including media and suppliers. Included in the price of each ticket is the opportunity to shop at the onsite BC Liquor Store where all wines served at the International Festival Tastings are available for purchase and can be delivered at no charge to any BC Liquor Store.
Additional wines are served at special events orbiting the tasting room, including a gala dinner and auction, wine seminars, trade events, and food and wine pairing affairs at top Vancouver restaurants and hotels.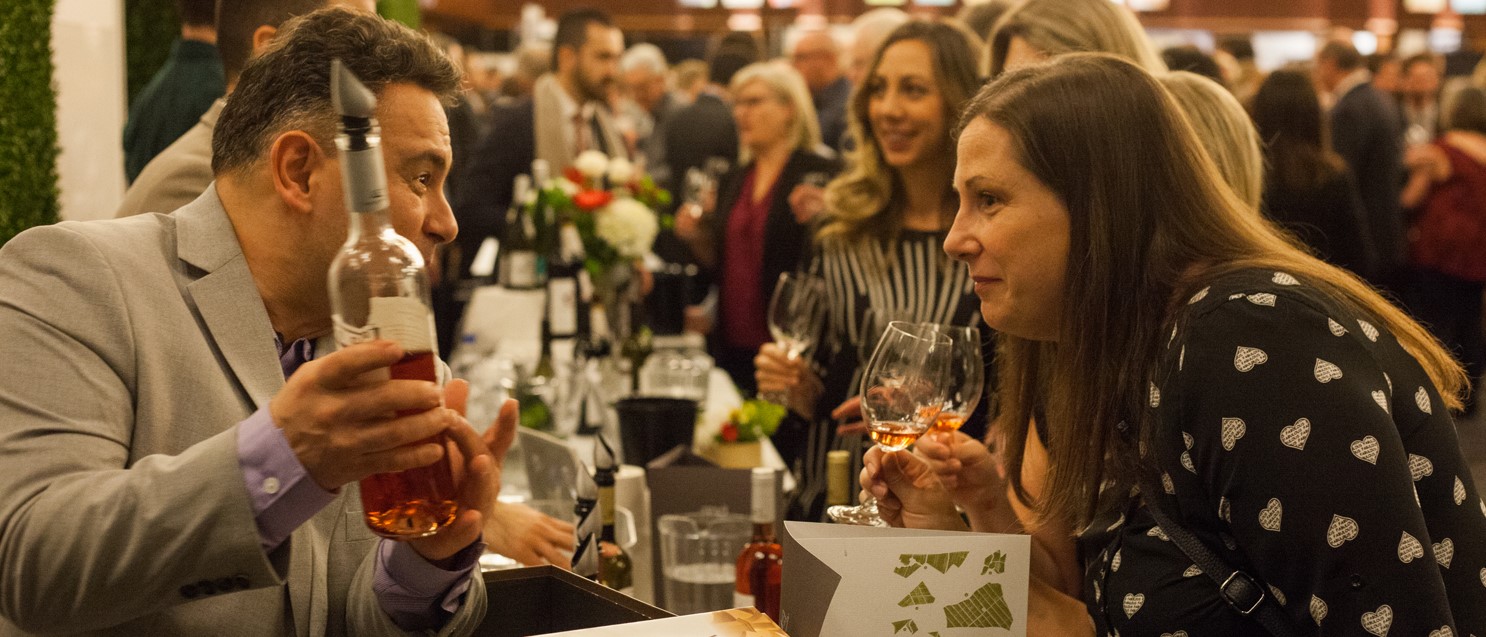 Mandate
The Vancouver International Wine Festival is produced by the Vancouver International Wine Festival Society, which has three mandates: provide an informative, educational and entertaining wine experience for public and trade; be a premier marketing opportunity for the wine industry and festival partners; and raise funds for the Bard on the Beach Theatre Society.
Fundraising
Since 1979, the festival has raised $9.8 million for the performing arts in Vancouver. Since September 2012, the charitable partner has been Bard on the Beach Theatre Society. Over the past ten years, the festival has raised nearly $1.8 million for Bard.
Event Prices
Event prices range from $59 to $575. Ticket prices include wine, food (if it is a food event), gratuities, taxes and service charges.
Bacchanalia Gala Dinner + Auction
Bacchanalia Gala Dinner + Auction, presented by National Bank Private Banking 1859, is the centrepiece of the festival and one of the most spectacular events in the city. The auction includes unique culinary and wine experiences, excursions and extravaganzas. The dinner, which begins with a sparkling wine reception, is the ultimate in wine and food pairing, featuring five sensational courses paired with nine outstanding wines. The gala features a raffle prize from Delta Air Lines of an international business-class trip for two, as well as guest gifts.
Public Events
Festival week runs Monday-Sunday and features seven days of events open to the general public, including tastings, seminars, minglers and a range of wine and food events.
The Line-up Of Public Events Includes:
International Festival Tastings on Thursday, Friday and Saturday evenings and Saturday afternoon
Wine seminars and minglers highlighting trends, regions, wineries and wine styles
Winery dinners on the Monday, Tuesday, and Wednesday of festival week
Saturday and Sunday lunches
Trade Days
An important component of the festival is Trade Days, which takes place on the Thursday and Friday of festival week and features wine business events available exclusively to members of the hospitality and wine industry. Two afternoon Trade Tastings, presented by ContainerWorld, on Thursday and Friday are the focal point of the trade conference; the first hour in the room is reserved for Buyers Only.
The Line-up Of Trade Events Includes:
A plenary on Thursday and masterclass on Friday
Welcome Back Lunch, presented by JF Hillebrand, a networking lunch for the wine industry on Thursday
Celebrating Together: The Annual Awards Lunch, presented by ContainerWorld, on Friday, where the Sommelier of the Year and Spirited Industry Professional awards are presented.
Trade tickets are restricted to members of the hospitality or food and beverage industry only and there is a registration process to ensure industry participation.
Locations
Events take place at a variety of venues around the city. The festival is headquartered at the Vancouver Convention Centre West. The International Festival Tastings, most Trade Days Conference events and public wine seminars are held at the VCC. Other events are held at Vancouver's top restaurants and venues.
Ticket Sales
Tickets for the 2022 festival are going on sale in stages:
Tickets for the International Festival Tastings (May 19-21) and the Super Pass are now on sale
Tickets for Bacchanalia Gala Dinner + Auction, Spring Fling, California Wine Beach Party, and PICA Kitchen Party will go on sale Wednesday, April 6 at 9:30 am.
Tickets for Winery Dinners will go on sale Wednesday, April 13 at 12 pm.
Tickets for Seminars and Dine Italia will go on sale Wednesday, April 20 at 9:30 am.
Tickets for Trade Days events will go on sale Wednesday, April 13 at 9:30 am
Testimonials
#1 Food, Wine and Hospitality Event in Canada – BizBash.com: Event Planning News, Ideas & Resources (seven consecutive years)
"It's all about the interaction between the consumers and the producers. It's fantastic at every night and at every booth and it's really responsible for the wine culture in Vancouver." – Anthony Gismondi, The Vancouver Sun, GismondiOnWine.com
"I think it's the biggest wine festival in the Americas." Paul Wagner, wine educator and writer
"A magnificent opportunity to communicate with domestic and industry clients…. Our winery has grown with this community and this festival." John Skinner, Painted Rock Estate Winery (BC)
"People really want to learn, really want to know more in detail about the wines from all over the world….I will be back for sure!" Daniel Castaño, Familia Castaño (Spain)
"The scale of it is pretty impressive. … It's kind of irresistible." Dr. Jamie Goode, wineanorak.com, Sunday Express
"It is the best run and one of the best organized wine festivals in the world…I hold this up as a paragon of what can happen around the world." Brian Lynn, Majella Wine (Australia)
"One of the reasons the Wine Festival is so popular, is it's a wine education class under the sails." Terry David Mulligan, Tasting Room Radio
"Besides the, oh, 750-ish wines being poured by winemakers and principals from 170 wineries, there's nothing like enjoying the big-city buzz of the room at Vancouver Convention Centre West, with that jaw-dropping view of the harbour."  Kurtis Kolt, The Georgia Straight
"It's one of the great, premier wine shows in North America." Harry McWatters, TIME Estate Winery (BC)
Quick Facts
Founded 1979
Since 1979, the festival has raised $9.8 million for the performing arts in Vancouver. The charitable beneficiary is Bard on the Beach Shakespeare Festival.
Wines from 14 countries
100 participating wineries in 2022
27 events over 7 days
200+ volunteers
2022 major sponsors and partners include: BC Liquor Distribution Branch, BC Liquor Stores, Import Vintners & Spirits Association, The Vancouver Sun (daily newspaper), Delta Air Lines, StayVancouverHotels.com, National Bank Private Banking 1859. Trade Days Conference sponsors include ContainerWorld, ITS Consulting Inc. (technology partner), and JF Hillebrand.
Festivalgoers are on average 39 years old, affluent (56 percent have household incomes greater than $100,000), and spend an average of $580 per month on wining, dining and entertainment.
Festival Publications & Communications Assets
(Subject to change)
Website – ~120,000 sessions annually
Promotional brochure – 12,000 printed in 2020
Trade brochure – 3,000 printed in 2020
E-blasts –9,500 subscribers x ~25 blasts in 2019/20
Tasting Program – 8,000 printed, 64 pages in 2020
Festival app – available for iOS and Android –2,500 installations
Social media: Twitter ~12,100 followers; Facebook ~5,900 likes; Instagram ~5,000 followers
Earned media (editorial) – 115 million impressions worldwide in 2020