Trade Tasting, presented by ContainerWorld – Friday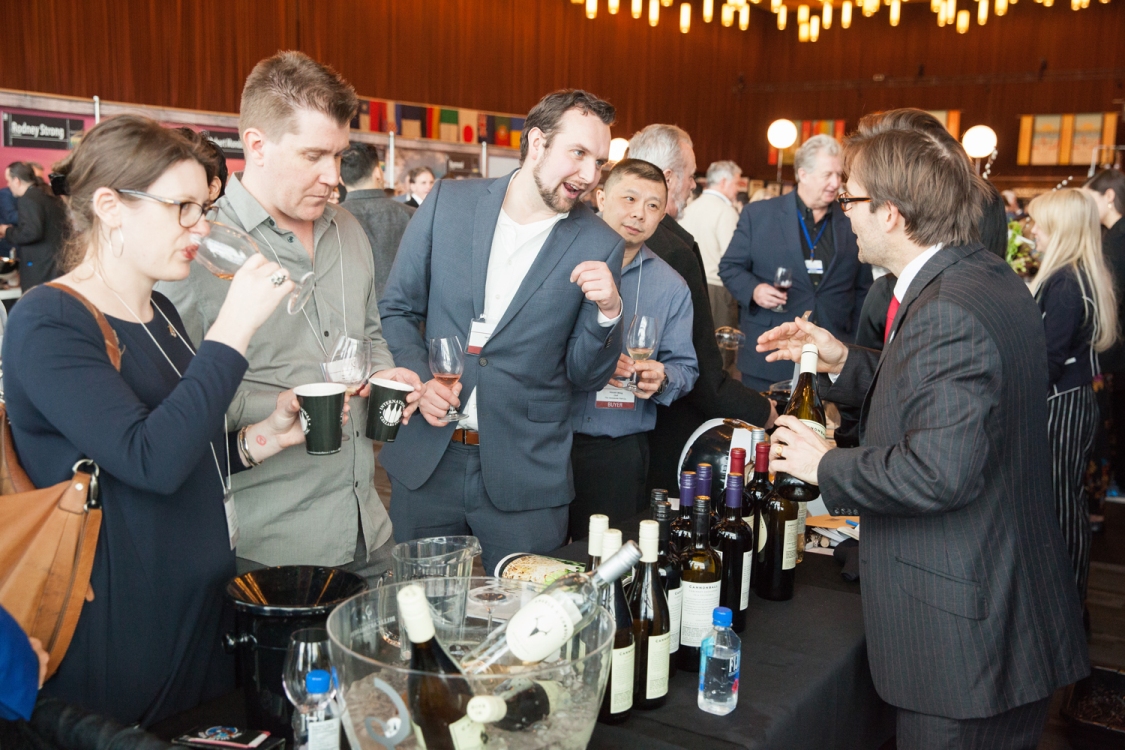 The Trade Tasting, presented by ContainerWorld, is the best opportunity to explore the Tasting Room with your industry peers. This is a fantastic opportunity to meet wine producers from around the world, to taste rare wines, and perhaps to discover the next big thing in the industry.
Trade Buyers Entry (1:30-2:30 p.m)
The first hour in the room (1:30-2:30 pm) is reserved for trade buyers and executive chefs only, providing the time and freedom to taste wines and connect with wine industry personalities away from the crowds. VanWineFest defines buyers as wine and/or food industry trade professionals who purchase multiple cases of wine per month on behalf of their establishment. You must register as a qualified buyer before you are able to purchase the a Trade Tasting Ticket with Trade Buyers Entry.
151 Exclusive Wines (plus ~725 festival wines) available
These tastings are not only an excellent opportunity to network and taste away from the evening crowds, but also a chance to sample 151 wines of unique or special interest; these are in addition to the ~725 served at both trade and public tastings. A winery principal, identified by a royal blue lanyard, is a senior member of the winery, intimately involved in the wine-producing process as a winemaker, proprietor or senior executive. Feel free to ask questions – this is the best opportunity to find out more about each wine.
Looking for more face time with principals? Attend the Principals Welcome Lunch, presented by JF Hillebrand before the Thursday tasting. All 163 principals are on hand at this informal buffet lunch with long-table seating – plus you'll get a headstart on sampling Tasting Room wines.
Two ways to buy wine onsite
BC Liquor Stores Festival Wine Shop – wines served at all six sessions are available for purchase in the onsite store, but some are in VERY limited supply. When you discover a wine that you want to purchase, don't wait until the end of the session to buy it as it might be sold out – put it in the handy bottle check, and then continue tasting. Repeat as necessary. When you're ready to leave, check out your wines. And if you live in British Columbia, your purchases can be shipped free of charge to your nearest BC Liquor Store. Note that entry to the store is restricted to those who have a current tasting session ticket.
Buy the Case – case lots of selected wines identified with a BUY THE CASE necktag are available for purchase. Place orders for your must-have wines at the participating winery tables or the Wholesale Customer Centre (WCC) Order Desk in the onsite Festival Wine Shop, and they'll delivered to your closest BC Liquor Store within two weeks of the festival. This Shop the World initiative is organized by the BCLDB Wholesale and IVSA.
Registration required
The Trade Tastings are restricted to those in the wine, restaurant and hospitality industries who buy, sell, serve or market wine in their business. Members of the trade must register online to purchase Trade Days tickets. Individuals purchasing tickets for these events must provide their name, occupational title, and the name of their establishment prior to booking. A name tag with this information is required for entry to all Trade Tasting sessions, including the Trade Buyers Entry. To access the Trade Buyers Entry from 1:30-2:30 pm, please ensure that you identify yourself as a buyer during the registration process.
Note:
Must be 19 or older (No Minors) to attend Vancouver International Wine Festival events. Two pieces of ID (one with birthdate and photo) are required. Infants and children are not permitted.
The Trade Tasting is graciously co-hosted by the embassies, high commissions or consulates of the participating countries:
Consulate General of Argentina
Australian Consulate
Consulate General of Chile
Embassy of the Republic of Croatia
Consulate General of France
Consulate General of Federal Republic of Germany
Consulate General of Italy
Consulate General of Japan
New Zealand Consulate General
Consulate General of Portugal
Consulate General of Romania
South African High Commission
Consulate General of Spain
U.S. Consulate General
Consulate General of Uruguay
Event Sponsors