VanWineFest is pleased to partner with our charitable beneficiary, Bard on the Beach, on Wine Wednesday, returning Wednesday, October 6 at 7pm via Zoom for a special Thanksgiving edition.
Wine Wednesdays, a popular special event at Bard, moved online in 2020 and featured many special guests from the wine world, joining Bard's Artistic Director Christopher Gaze and #VIWF Executive Director Harry Hertscheg in a virtual wine tasting.
On October 6, Christopher and Harry will be joined by Christa-Lee McWaters, the General Manager for the Time Family of Wines – and member of an original BC wine family – and Howard Soon, Master Winemaker from Vanessa Vineyard.
Tune in to sip and savour a stunning variety of wines, chosen especially for the Thanksgiving table.
The nose is filled with aromas of lime citrus, pineapple, and freshly cut grass. The entry is mouthwatering and bursts with flavours of juicy peach, mandarin orange and more lime. Sweetness and acidity leads to a very balanced finish that leaves you craving more. This wine is a blend of 35% Riesling, 20% Ehrenfelser, 18% Sauvignon Blanc, 18% Pinot Blanc, 8% Chardonnay and 1% Semillon .
Evolve Winery – Pink Effervescence
Wait no longer – just pop open and raise a glass. You might get notes of ripe peach and rich berry fruit in your glass from this 97% Pinot Blanc and 3% Merlot blend, but all you really need to know is that it is sparkly, just like you.
See Ya Later Ranch – Pinot Noir
Fresh and stewed strawberries, sour cherries, and rich, smoky, toasted oak on the nose. The palate is alive with vibrant red fruits and a backbone of toastiness. The acidity is bright and balanced, and the tannins are firm yet approachable. The wine is a delicately robust example of a Pinot Noir.
*The above wines are available for purchase at BC Liquor Stores near you. 
Please taste responsibly
19+ event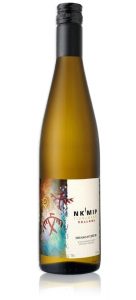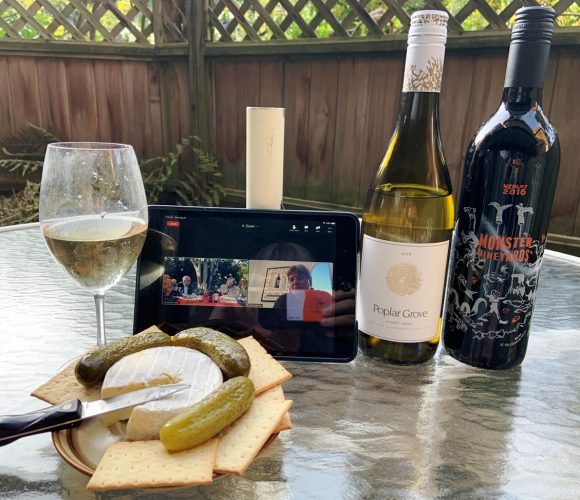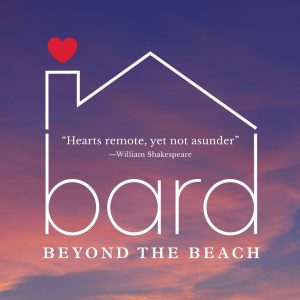 PAST WINE WEDNESDAYS
July 29
The first #WineWednesday took place on July 29 with Master Winemaker Howard Soon from Vanessa Vineyard, VanWineFest's 2015 Spirited Industry Professional. Howard kept Harry and Christopher on their toes, and it was the most fun you can have on Zoom with (or without) wine!
C Sharp Sparkling Brut NV
Our southern Okanagan vineyards are tucked in against jagged cliffs where cool desert nights, incredible sunlight and variety of unique soils provide an excellent home for our sparkling wine. Fresh, bright & floral with melon, and citrus this pairs well with Prosciutto wrapped melon or a variety of Artisan cheeses.
Sandhill Rosé 2019
The Sandhill brand references the noble soil of the Southern Okanagan: Sand and lots of it, sometimes hills of it. A stylish rosé, there is hints of spice and herbs along with melon, strawberry and pomegranate fruit flavours. Planked salmon is an option as is potato salad, grilled veggies, and quiche or pasta dishes.
Gray Monk Pinot Noir 2018
Garnet in colour with aromas of red cherry and vanilla. Medium-bodied with flavours of pomegranate, red currant and cherry with a long finish.
"Christopher and Harry and Howard were a terrific team! Lots of fun, lots of laughs and lots of learning!" – Wine Wednesday Participant
August 12
The 2nd Wine Wednesday, sponsored by Hunter Litigation Chambers, took place on August 12, and featured Tony Holler, Owner and President of Poplar Grove Winery, and Randy Kaardal Q.C., past Chair and current Board Member of the Vancouver International Wine Festival and senior litigator at Hunter Litigation Chambers.
Poplar Grove – Pinot Gris
Tasting Notes
Glimmering lemon splashes in the glass. Intense essences of ripe pink grapefruit, lime zest, & honey suckle. A lush palate of bright citrus, nectarine, balances with refreshing acidity & hidden notes of ginger. The 2019 is an exceptional expression of this popular varietal.
Winemaker Notes
Made from 100% Pinot Gris grapes. The fruit was pressed after three hours of skin contact to extract additional aromatics and fermented cold to preserve the signature fruit flavours. The various parcels of juice were inoculated with three different yeast cultures in order to allow complexity and mouth-feel to develop without over manipulation. The final Pinot Gris blend was created to bring the most balanced profile of acidity, aromatics, and natural sweetness on the palate.
Monster Vineyards – Merlot
Ruby red in colour. Signature aromas of plum, allspice, and iris play in your nostrils. Notes of ripe cherry and blueberry, with a rich and well-balanced finish.
Awards
Pacific Rim Wine Competition – Best of Class
LA International Wine Competition – Gold
MV – Tech Sheet Merlot 2016
September 2, 2020
Christopher zoomed in remotely from the Sunshine Coast, while Harry relocated to the Bard library. They were joined by special guests Jason Yamasaki, sommelier for the Joey Group, and the 2015 VIWF Sommelier of the Year, Christina Hartigan, wine director for Gooseneck Hospitality, and Shiva Reddy, 2020 Foodie of the Year, Western Living. The wonderful Howard Soon also made a guest appearance to shake up the Q&A, with a bottle of his Vanessa Vineyards going to the person with the best question. But the star of the show was surely Christopher's dog, the lovely Mason!
Christina's wine selection
Quails' Gate Rosé 2019
At Quails' Gate we think Rosé should be enjoyable and fun to drink: have a sip and smile! Made in a versatile dry style, this year's vintage is fresh and fruit-forward, with enough balance and depth to intrigue a true connoisseur. A classic, easy-drinking summer sipper that delivers exceptional flavour and value. The colour is a gorgeous pale pink hue. Out of the glass come bright, fresh red fruit aromas of sweet strawberry, cranberry and red currant with hints of citrus grapefruit and watermelon. On the palate this wine is light, fruity and satisfying from the bright entry to the refreshing, crisp finish. Nothing pairs with Rosé like dining al fresco. Perfect for sharing on the patio, at a picnic or poolside, this wine reflects a hint of summer even when the weather keeps you inside and looking out. Pair with fresh, seasonal, high quality ingredients prepared simply: pizza, Caprese salad, melon and prosciutto or spinach and strawberry salad.
Shiva's wine selection
Unsworth Vineyards Pinot Gris 2018
91 points, Anthony Gismondi: "…electric with juicy acidity, lighting up pear, quince, crunchy Asian pear streaming along the slender, stony palate. There's a lovely balance here, embracing both coastal freshness, and Cowichan sunshine… River stones, grapefruit pith, green apple and joy rocket through this vibrant wine. Wine Islands classic."
Jason's wine selection
Blasted Church Hatfield's Fuse 2018
A cornucopia of flavours made with 11 different grape varietals. The wine opens with an abundance of stone fruit – apricot and peach, followed by spicy floral notes, green apple, lemon and orange blossom. A terrific match for halibut, roasted chicken or creamy pasta dishes. Bouquet of apricots & peaches.
October 7, 2020
Sponsored by Hunter Litigation Chambers, Christopher and Harry was joined by Jim Wyse, founder of Burrowing Owl Estate Winery and Calliope Wines, whose philosophy for ecologically sound winemaking practices have informed the winery from the very beginning.
A complex and aromatic nose of pear, honeydew melon, subtle honeysuckle floral notes, white peach and mango with lime and chalk in the background. The palate is dry, crisp and fresh with a full body and mango, papaya and nectarine notes with jasmine and orange oil, golden apple, honey and lemon with some fresh cilantro and white pepper notes on the long finish. Pair this with tuna tataki and avocado or seafood ramen.
Calliope – Cabernet Merlot Figure 8 2018 
This blend of Merlot, Cabernet Franc and Cabernet Sauvignon has an intense nose of black and red currant, plum, raspberry, maraschino cherry and floral violet notes with hints of dried sage. The medium-bodied palate is fresh and juicy with crisp acidity and bright red plum, red currant, red cherry and some dried sage and thyme on the long savoury finish. Pair this with eggplant parmigiana or grilled lamb chops rubbed in rosemary and garlic.