The 2017 festival takes place February 11-19 – we hope to see you there!
Public events are now on sale:
Browse All Events
Gold Pass – $495
Includes all public and trade tastings
Delta Air Lines Tasting Lounge (both Fri & Sat)
Invitation to Festival Toast
Priority access to the tasting room
Bacchanalia Gala Dinner and Auction – $ 450
Saturday, February 11, 6-11 p.m.
Fairmont Hotel Vancouver
Bacchanalia Gala Raffle Tickets (though Bard on the Beach box office now)
$100 each  (only 200 available)
Win Two Systemwide International Business Class tickets to anywhere Delta flies (valid for flights on Delta, Air France or KLM booked on delta.com).
Draw will be held Gala night February 11, 2017.
Trade Days Conference, presented by Sysco:
All trade events go on sale Tuesday, January 17, 2017 at 9:30 a.m.
The Trade Days Conference, presented by Sysco, is limited to those in the wine, restaurant and hospitality industries who buy, sell, serve of market wine in their business. Registration is required at the time of purchase.
Ticket Price Charges:
Note: Total price includes GST, service charge + base ticket price. Eg: A $95 ticket = (base ticket price + $3.00 s/c)*GST
HOW TO PURCHASE:
Online 24/7
Go to the Event Calendar for a full list of what's happening at VanWineFest
You can view by month, or in a list or grid.
Or check out the interactive Festival at a Glance
By Phone
604-873-3311 Or Toll Free at 1-877-321-3121
In Person
BMO Theatre Centre, 202-162 West 1st Avenue, Vancouver
Box Office and Phone Line Hours:
Monday to Friday: 9:30a.m.-5 p.m. Closed Saturday & Sunday.
Questions?: Email boxoffice@vanwinefest.ca
Cash, VISA, MasterCard or AMEX accepted. Debit is not accepted.
Avoid disappointment and buy in advance online.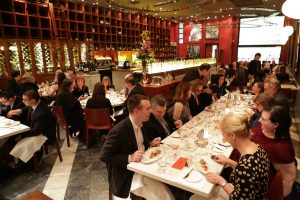 Notes:
Must be 19+ (No Minors) to attend Vancouver International Wine Festival events.
To purchase tickets to the Bacchanalia Gala Dinner + Auction, please visit vanwinefest.ca to buy on line or charge by phone 604.873.3311. Contact Kelly Snider at 604.637.3098 or gala@vanwinefest.ca.
All other events are available through VanWineFest.ca, in person or by phone.
Ticket Delivery: Tickets will be emailed to customer (Trade tickets will only be mailed as hard tickets).
Tickets to special events such as winery dinners and lunches are NOT sold at the door nor by the host venue. They must be purchased in advance online, by phone or in person. A limited number of tickets will be released prior to each Trade Tasting and International Festival Tasting session, available in person only.
Click here for full ticket policies.