LOT 1 1967 CHÂTEAU D'YQUEM
Value: $2,580
One 750 ml bottle.
This wine unfurls peach, pineapple, coconut, nutmeg and cinnamon aromas, backed by hints of grilled toast, caramel and vanilla from new oak. With uncommon richness and concentration, Yquem's wines have extraordinary aging potential.
Donated by: Lee Cross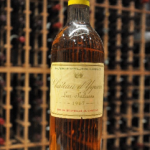 Lot 2 1975 CHÂTEAU PETRUS
Value: $4,620
One 750 ml bottle.
The 1975 Petrus reveals a youthful, rustic, brutally powerful style with an opaque garnet/ruby/purple colour and an emerging nose of over-ripe black cherries, mocha, chocolate and truffles.
Donated by: James Killam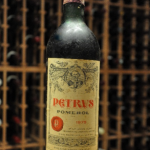 LOT 3 1982 CHÂTEAU MARGAUX
Value: $3,500
One 750 ml bottle.
It is fresh and young on the nose with currants, plums, mints and flowers. A full-bodied red with slightly tight and firm tannins, opening up to a long and satisfying finish.
Donated by: Bill & Sharon Grenier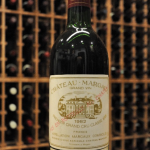 LOT 4 1985 CHÂTEAU LAFITE ROTHSCHILD
Value: $3,300
One 750 ml bottle.
"It has a beautiful nose that is just classic Lafite. It is still fresh yet understated, stately even, with tobacco and cedar-tinged red berry fruit. It is not a powerful bouquet, but there is something…magnetic about it. The palate is still youthful with fine tannin, like the nose, understated yet very well balanced. The acidity here is perfectly judged with an almost nonchalant finish." Robert Parker's Wine Advocate. 93 points.
Donated by: Lawrence and Maggie Burr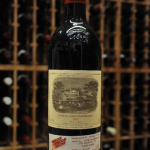 LOT 5 1989 CHÂTEAU MOUTON ROTHSCHILD
Value: $2,955
One 1.5 L bottle.
The '89 Mouton is a lovely Pauillac that has reached its plateau of maturity. It has an engaging cedar-scented bouquet with touches of cigar box, mint and a hint of Italian cooked meats. Very well defined, the palate is medium-bodied and very harmonious. This collectible magnum is signed.
Donated by: Cal Bergen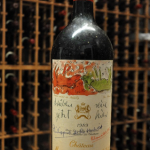 LOT 6 1989 CHÂTEAU HAUT BRION
Value: $2,625
One 750 ml bottle.
"This continues to be a perfect wine with a beautiful, dense character of tobacco and sweet fruits. Chocolate, toasted walnuts and flowers here too. It's full-bodied with velvety tannins. Lasts for minutes on the palate." – James Suckling
Donated by: Glenn Andersen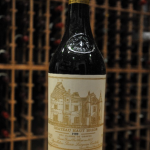 LOT 7 1996 DOMINUS
Value: $3,000
Six 750 ml bottles.
This 6-pack of Dominus from Napa Valley is in its original wooden case. The 1996 vintage exhibits a deep garnet robe with ripe flavours of blackberries, dried cherries and hints of violets, allspice, vanilla and tobacco. Silky tannins and a long and complex finish balance its warm, luscious and elegant body.
Donated by: Garth and Lynette Thurber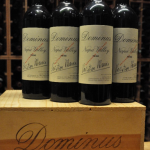 LOT 8 PENFOLDS GRANGE VERTICAL (1997, 1998, 1999)
Value: $3,000
Three 750 ml bottles.
Penfolds Grange is made predominantly from the Shiraz grape and usually also has a small percentage of Cabernet Sauvignon. It is widely considered one of Australia's first growth and most collectible wines.
Donated by: Glenn Andersen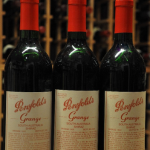 LOT 9 2008 DOMAINE DE LA ROMANÉE-CONTI ROMANÉE-ST. VIVANT
Value: $4,410
One 750 ml bottle.
"The 2008 Romanée-St. Vivant is pure seduction. The aromatics alone are breathtaking, but the RSV is truly firing on all cylinders. Curiously, today the RSV is quite a bit rounder and suppler than the Échezeaux and Grands-Échezeaux. It shows remarkable silkiness, inner perfume and nobility. A seamless finish rounds things out in style. My instincts tell me this will firm up in bottle, but frankly I am a bit mystified that hasn't happened yet. Today, this doesn't look like a super long-term ager within the context of the domaine's very finest wines. Anticipated maturity: 2018-2028. " Robert Parker's Wine Advocate. 94 points.
Donated by: Glenn Andersen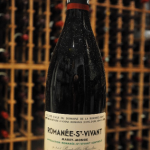 LOT 10 2009 DRY RIVER PINOT NOIR
Value: $1,600
Twelve 750 ml bottles.
Vibrant ruby with purple highlights that proceed right to its edges. The nose has a distinctive perfumed lift which is underpinned by softer lily scents, musky spice, black olive and an earthy, forest floor character. The palate displays minerality, red and black fruits, black olive, dried sage and hints of aromatic spices.
Donated by: Inland Trading Co.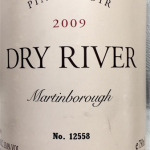 LOT 11 2015 COLOMÉ ALTURA MAXIMA
Value: $2,000
Six 1.5 L bottles.
Dense, ripe and powerfully fruity with intense notes of hazelnut and spice to the dark plum, baked cherry and mulled berry flavours. Dark chocolate and espresso details linger on the powerful finish.
Donated by: Bodega Colomé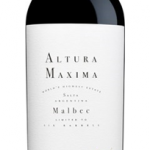 LOT 12 COLLECTION OF BORDEAUX
Value: $2,530
Twelve 750 ml bottles.
This collection features one bottle of each of the following: 1989 Palmer, 1990 Malmaison, 2000 Clarke, 2000 Du Tertre, 2000 Lanessan, 2005 Leoville Poyferre, 2000 Haut Marbuzet, 2000 Clos Magne Figeac, 2000 Malescasse, 2001 Clos de la Tour Reserve, and two bottles of the 2001 Leoville Las Cases.
Donated by: Tony Ryan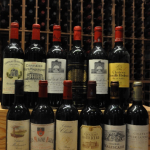 LOT 13 BLACK HILLS NOTA BENE VERTICAL
Value: $1,600
Fifteen 750 ml bottles.
This vertical from B.C.'s Black Hills Estate includes vintages 2000 to 2015 inclusive, except for 2007. Black Hills' Nota Bene is an established BC icon, full of archetypal savoury/herbal character, with a graceful balance between fresh ripe fruit and signature bright Okanagan acidity. The wine is replete with luscious dark fruit, mocha and baking spice exoticism and smoothly polished tannins. Complex and savoury, Nota Bene has a long and satisfying finish that displays the dusty minerals of the Bench.
Donated by: Tony Ryan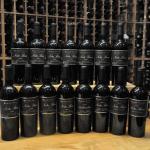 LOT 14 QUAILS' GATE WINERY EXPERIENCE
Value: $2,000
A two-night stay at The Nest at Quails' Gate Estate Winery, including dinner for two at Old Vines Restaurant and a private VIP tour and tasting. The Nest is a completely renovated A-frame house at the base of the vineyard, quietly secluded and with a private beach. Blackout dates apply, please book early to avoid disappointment.
Donated by: Quails' Gate Estate Winery