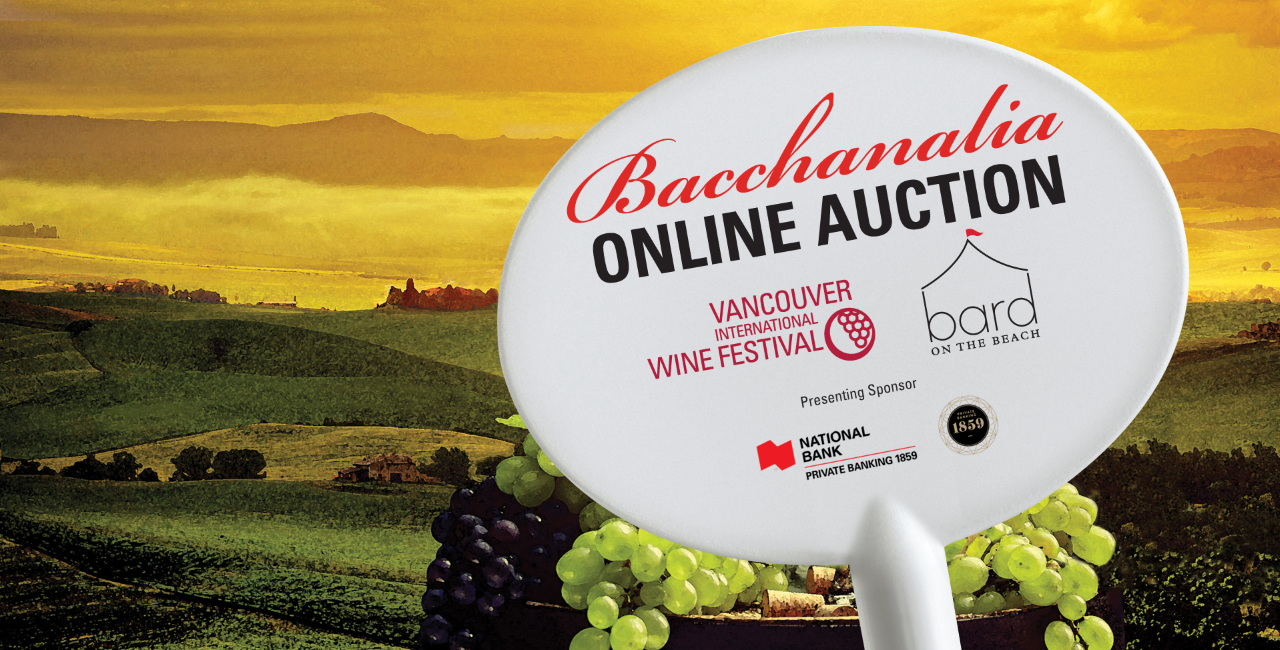 The Bacchanalia Gala Dinner + Auction is an annual event that has become synonymous with sensational wine and food, featuring one of the most exclusive wine auctions in North America! This year a large gathering just wasn't possible, so in its place, we offered a virtual version:
The Bacchanalia Online Auction took place April 27-May 1
Presented by National Bank Private Banking 1859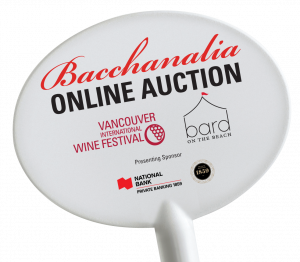 VanWineFest and Bard on the Beach Shakespeare Festival partnered to present a unique new online event, which offered exclusive wines and wine experiences while raising crucial funds for both festivals. Between April 27 and May 1, 2021, the virtual  Bacchanalia Online Auction, presented by National Bank Private Banking 1859, offered an opportunity to bid on an array of wines and wine experiences.
The response from the wine community was incredible and we had more 400 bottles of wine and nearly 25 wine experiences available to bid on in 128 lots. From large-format bottles and rare and unique wines to dining experiences and winery stays and tours, this was a wine lover's dream auction.
Check out some of the auction highlights.
Thank you to our Bacchanalia Online sponsors!
Frequently Asked Questions
Please see the Terms and Conditions for more information.
Where does the money go?
All revenue earned through this auction will go towards supporting Bard on the Beach Shakespeare Festival and the Vancouver International Wine Festival. Both organizations have been severely impacted by COVID-19 and the funds raised through this event will help both organizations resume activities when it is safe to do so.
How do I receive my items?
All successful purchasers must be able to pick-up their items in person at the Vancouver Club, 915 W Hastings St, Vancouver, on Friday, May 7 (1pm-6pm) or Saturday, May 8 (12pm-4pm). You may send a proxy to pick up your items, however please contact Max Forsyth at mforsyth@bardonthebeach.org in advance with the name of your proxy so we can verify who you have sent. If extraordinary circumstances prevent you or your proxy from picking up your items on Friday or Saturday, please contact Max before 5pm on Wednesday May 5 to discuss possible alternative arrangements. Any items that are purchased and not picked up may be subject to a minimum handling fee of $50.
Can I bid on items if I live outside of British Columbia?
Bidding is open to anyone in Canada other than residents of Quebec. However, all sale transactions following the auction will occur in British Columbia. Buyers are responsible for pickup in BC.
How do I register?
All bidders/purchasers of wine or other alcoholic beverages through the Auction must be 19 years of age or older.  To participate in the Auction, Bidders must register/sign-in for an account at IronGateAuctions.com. You may register at anytime, however the Bacchanalia Auction Catalogue preview will only be available by Sunday April 25.
I am having trouble with my account/registration
Accounts are made with Iron Gate Auctions. They can be reached directly via phone: 416-234-9500 (Monday- Friday 6am – 2PM (PST)/ 9am – 5PM (EST) or you can contact one of their IronGateAuctions.com concierge team members at contact@irongate.wine.
Do I need a credit card to bid?
Iron Gate Auctions will place an authorization hold on your credit card for $1 to ensure that it is yours and authorized.