&nbsp

Trade Days
JOIN US FOR CANADA'S BEST WINE TRADE SHOW
Grow your wine savvy and wine business: Trade Tastings, some seminars, still available
The Trade Days Conference, presented by Sysco, the biggest and best wine trade show in Canada (according to New York's BizBash), kicks off on Wednesday. And although many events have sold out, tickets are still available for a few peak events.
Trade Tastings, presented by ContainerWorld
Thursday, February 16 and Friday, February 17
2:30-5 p.m. Trade Buyers Entry 1:30 p.m.
VCC West, $49
There's no better place to grow your wine savvy – and your wine business – than at the Trade Tastings. The Tasting Room is the centre of all the action, home to 180 wineries from 16 countries, including, of course, theme country Canada. Choose from 950 wines, including 170 wines exclusively available to trade. Meet wine producers from around the world, taste rare wines, and perhaps discover the next big thing in the industry. They are an excellent opportunity to network and taste away from the evening crowds.
The first hour of each Trade Tasting (1:30-2:30 p.m.) is reserved exclusively for trade buyers and executive chefs. Registration is required for all trade events.
---
Looking to Learn (and Taste) More?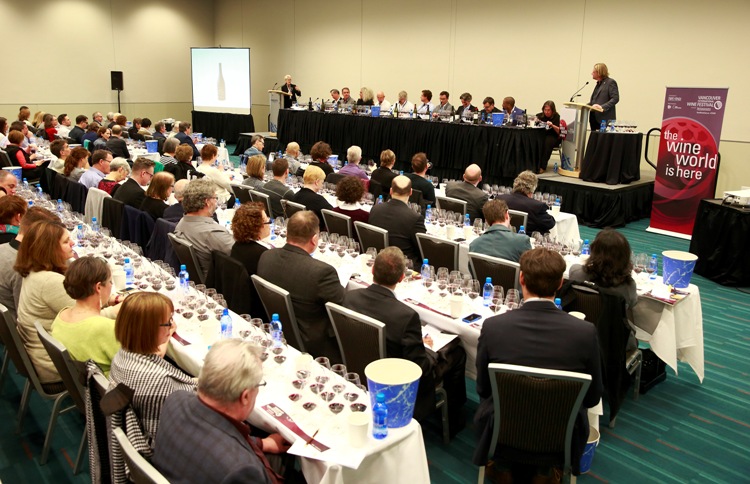 Tickets are available for the following seminars featuring wines from Ontario and British Columbia.
Discover Ontario's Cool
Thursday, February 16, 5:15-6:45 p.m. – VCC West – $50
Ontario has been called one of the world's most exciting new world wine regions. Take a tour of Canada's largest wine growing region and experience Ontario's fine wine revolution.
Featured speakers: Christopher Waters, Allison Christ, Janet Dorozynski, Marco Piccoli, Charles Pillitteri
From Ground Up
9:30-11:15 a.m. – VCC West – $45
In March 2015, the Golden Mile Bench was officially announced as a sub-Designated Viticultural Area (DVA) of the Okanagan Valley.  This seminar explores the history of The Golden Mile, its unique terroir, and the research process for the sub-appellation.
Featured speakers: Anthony Gismondi, Rhys Pender MW
Sponsored by Golden Mile Bench Association
Okanagan Estate Collection
9:30-11:15 a.m. – VCC East – $45
A unique opportunity to taste some of Canada's finest wines from Mission Hill, CedarCreek, CheckMate, and Martin's Lane wineries, guided by the Estates' four pioneering winemakers, and featuring new and pre-release vintages.
Featured speakers: Ingo Grady, Darryl Brooker, Phil McGahan, Shane Munn, Taylor Whelan
BC Pioneers & New Kids
Friday, February 17, 5:15-6:45 p.m. – VCC West – $50
Take an evolutionary look at the British Columbia wine industry over the past 25 years and see how industry pioneers and the new kids on the block are putting their stamp on making wine in BC.
Featured speakers: Kurtis Kolt, DJ Kearney, Jacquie Kemp, Pedro Parra, Howard Soon, Ann Sperling,
Val Tait, Chris Tolley