California vibes come alive during this fun evening on Granville Island that pays tribute to a variety of the Golden State's most exciting wines. This walk-around and play-around food-and-wine event is an energy-filled evening of kicking back, having fun playing games, and catching up with friends. Nosh on some California faves like surfboard sushi, mini tacos, and sliders while listening to cool tunes—it's the party of the Festival!
Like a California beach party, it get chilly when the sun goes down! While our unique venue is covered, it doesn't have walls or heat – please dress accordingly! Please note: the venue is next door to 1596 Johnston Street – watch for signs to the entrance and exit.
Sponsored by California Wines and Granville Island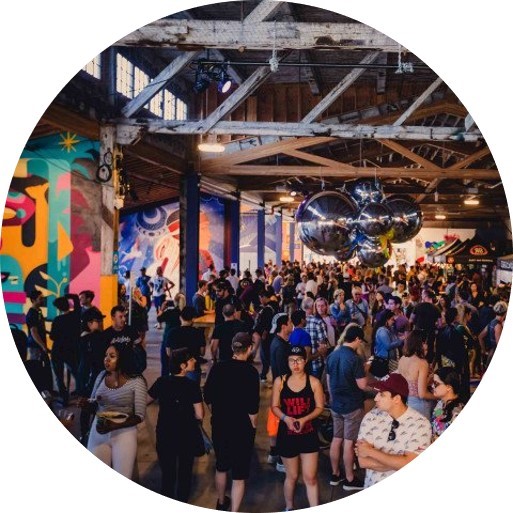 Bread & Butter Wines
Sauvignon Blanc 2020
Cabernet Sauvignon 2020
Dave Phinney Wines
Orin Swift Cellars Abstract 2019
Orin Swift Machete 2018
Josh Cellars
Pinot Grigio 2020
Central Coast Pinot Noir 2020
The Prisoner Wine Company
Unshackled Cabernet Sauvignon 2019
Unshackled Rosé 2019
Rodney Strong Wine Estates
Knotty Vines California Cabernet Sauvignon 2017
Knotty Vines California Chardonnay 2018
Shannon Family of Wines
Shannon Ridge Buck Shack Rose 2020
Buck Shack Bourbon Barrel Cabernet Sauvignon 2018
Stags' Leap Winery
Napa Valley Chardonnay 2020
Trim
Cabernet Sauvignon Central Coast 2018
Chardonnay Central Coast 2019
Wente Vineyards
Morning Fog Chardonnay 2020
Southern Hills Cabernet Sauvignon 2019
Wagner Family of Wines
Conundrum White 2020
Conundrum Red 2019
Event details subject to change
Must be 19 or older (No Minors) to attend Vancouver International Wine Festival events. Two pieces of ID (one with photo and birthdate) are required. Infants and children are not permitted.
Festival events are subject to Public Health Orders and/or venue policies. As per the current situation, we will not be requiring proof of vaccination for entrance to events, and masks are not required. If the vaccine card is reinstated prior to the event, however, we will update our policy to ensure we are in line with provincial guidelines. As we have a firm policy of no refunds or exchange, please keep that in mind when making your purchase.